Canada's Capital City: Possibly a Complete Waste of Time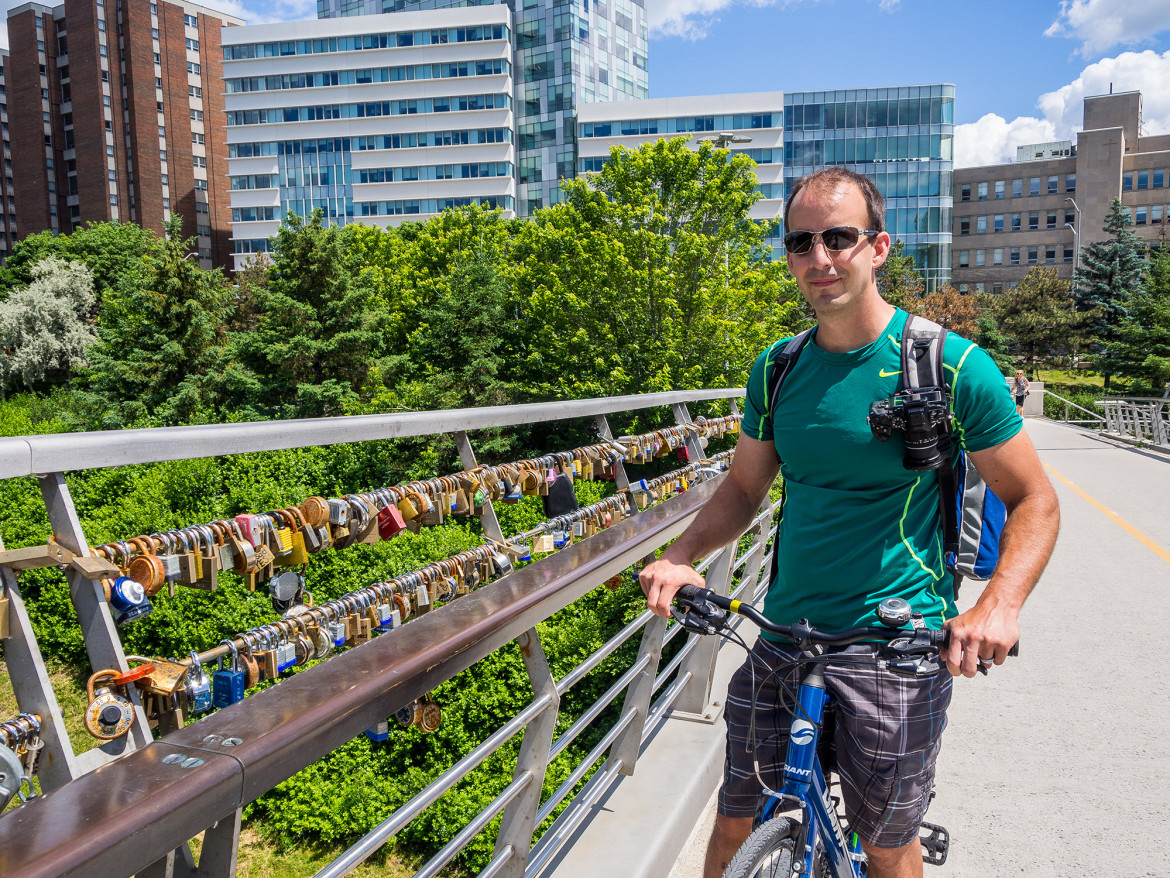 I don't even know where to start with this post. I'm bordering on saying that Ottawa was a complete waste of time, but we did something really fun and enjoyable there. Honestly though, I don't know why people go to Ottawa. I'm sure I'm missing some great aspect of the city. I'm sure that the two nights I spent there were not enough to properly evaluate this city…or any city for that matter. I'm sure that the choice of hotels greatly impacted how I feel about the city as a whole. Let's just say it was the cheapest hotel in the city (at $75/nt) and I'm fairly certain it is or was rented out by the hour.
The room aside, we were looking forward to what the next day had in store for us. We had bicycle plans! We love riding bicycles around cities! Bicycles seem to make everything better for us. Ottawa had tons of bicycle paths for us to explore and we were looking forward to it.
We walked along Rideau Street until we got to the Plaza bridge, after a quick glance around we found the signs pointing us to RentABike which is located under the Plaza bridge. The guy that greeted us was super friendly and helpful. He got us all set up with bicycles, helmets and locks. He gave me a pannier to put on my bike for my camera gear and gave us a map along with a few great tips on where to ride.
We had the rental bikes for 4 hours and planed to ride down the Rideau Canal until Hog's Back Park and then back up the Ottawa Canal until we got to the Ottawa River. It was approximately a 22 km loop.
The pathways along the canals make you feel like you're miles away from the city. It's quiet and relaxing. The birds chirp as you ride below their tiny tree top nests and Canada geese waddle across the path, making room for you to pass by.
The canals take you past waterfalls, lakes and parks. A day out on the bicycles is an enjoyable way to spend an afternoon.
But still, we were not completely impressed with the experience. It seemed dull and lacking an real substance. Had this been a city that we lived in, the pathways would be a wonderful escape from the everyday. We decided that to make this slightly more interesting that we would bicycle downtown to see the Parliament buildings before returning the bicycles. We were met with hordes of people and gates blocking the access to most things on Parliament hill. It seems that they were setting up for the upcoming Canada Day celebrates and everything was gated off. Defeated, we returned our bicycles and walked back to our hotel.
We walked east along Rideaux Street to our hotel. I spun around quickly as I heard the bang of vehicles crashing. I starred behind me, slightly puzzled as I saw nothing that resembled a car crash. What was that noise? The guy walking behind us seemed a bit sketchy with his bejeweled vest and large chains hanging from his jeans, but it didn't seem like he made a loud crashing sound. We let him walk past us at the next cross walk since I felt a bit unsafe. He proceeded by with his tough guy swagger, then jumped up and karate kicked a defenseless newspaper box. You know the ones, the metal boxes with a window in front. Put coins in it and get a newspaper in return. This particular one was chained to the fence behind it, clearly this behavior is normal for the area. The newspaper box rocked back on it's edge and then slammed forward landing in it's original upright position. Mr. Tough guy thought the box deserved a few more kicks. He swore, muttered something to himself and carried on. WTF. A few steps later he drop kicked a random sign, there it was, the loud rattle bang that resembled a car crash that we heard 5 minutes earlier. Again, WTF.
I blame the hotel for my lack of enjoyment during our stay in Ottawa. You see, when we entered our hotel room, and it looked like the pictures below, the rest of our trip was viewed from a less than perfect attitude.
I slept in my sleeping bag. Curtis seemed to be OK with the 30-year-old-tattered-and-torn-never-been-washed blankets that were provided on the bed. These pictures don't even do justice to how bad the room actually was. The bathroom door didn't shut due to the slanted walls, the room smelled of wet dog and you could barely see through the dirt on the windows.
I really am not one to complain about hotel rooms. Being married to Curtis, I've learned to stay in some less than desirable places just to save a buck. It's always been fine. And this ended up being fine as well.
The icing on the cake? The 6am wake up call from the lady in the hallway yelling about how she was stabbed with a crack needle in one of the rooms down the hall. We woke up to something along the lines of "OMFG, I can't f***ing believe this! OMG! They're doing crack down in room 216. I can't believe the clientele in this hotel, someone needs to do something about them letting those types of people in here! I was f***king sober and they stabbed me with a needle because I was sober! F**k!". She was so upset and insisted that someone tell the front desk in the morning about the clientele staying at the hotel. Apparently, 6am was not "morning" to her since she could have gone and told them herself. I highly doubt she was anywhere near sober before being stabbed with the crack needle. Don't worry Ma'am, we'll tell the hotel staff. We'll tell the internet people too!
The only reason why I'm not telling you the name of the hotel is that the hotel staff were incredibly friendly towards us. I believe that this hotel could be a hotel worth staying if they clean things up in the future. For now, just book a hotel that's smack dab in the middle of downtown, you'll have a better experience.

Latest posts by Jill Patterson
(see all)