Chilkoot Trail, Alaska (VR360)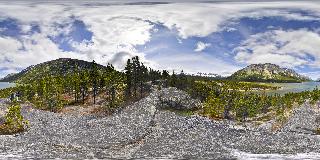 Curtis hiked the Chilkoot trail in July 2012, check out this beauty of virtual panorama!
According to wiki "The Chilkoot Trail is a 33-mile (53 km) trail through the Coast Mountains that leads from Dyea, Alaska, in the United States, to Bennett, British Columbia, in Canada.
It was a major access route from the coast to Yukon goldfields in the late 1890s. The trail became obsolete in 1899 when a railway was built from Dyea's neighbor port Skagway along the parallel White Pass trail.[2] The Chilkoot Trail and Dyea Site was designated a U.S. National Historic Landmark in 1978. In 1987, the trail was designated a National Historic Site of Canada.[3] In 1998, the centennial of the gold rush, Chilkoot Trail National Historic Site in British Columbia merged with the U.S. park to create the Klondike Gold Rush International Historical Park."
To view virtual tour properly, Flash Player 9.0.28 or later version is needed.Please download the latest version of
Flash Player
and install it on your computer.

Click the full screen button! Hit escape to exit full screen.
You can zoom in and out of the virtual panorama as well.
Tell us what you think of virtual panoramas! They take some time to create and we'd love to know if you enjoy seeing them!

Latest posts by Jill Patterson
(see all)