Top 10 Waterproof Daypacks for Any Adventure, 27-35L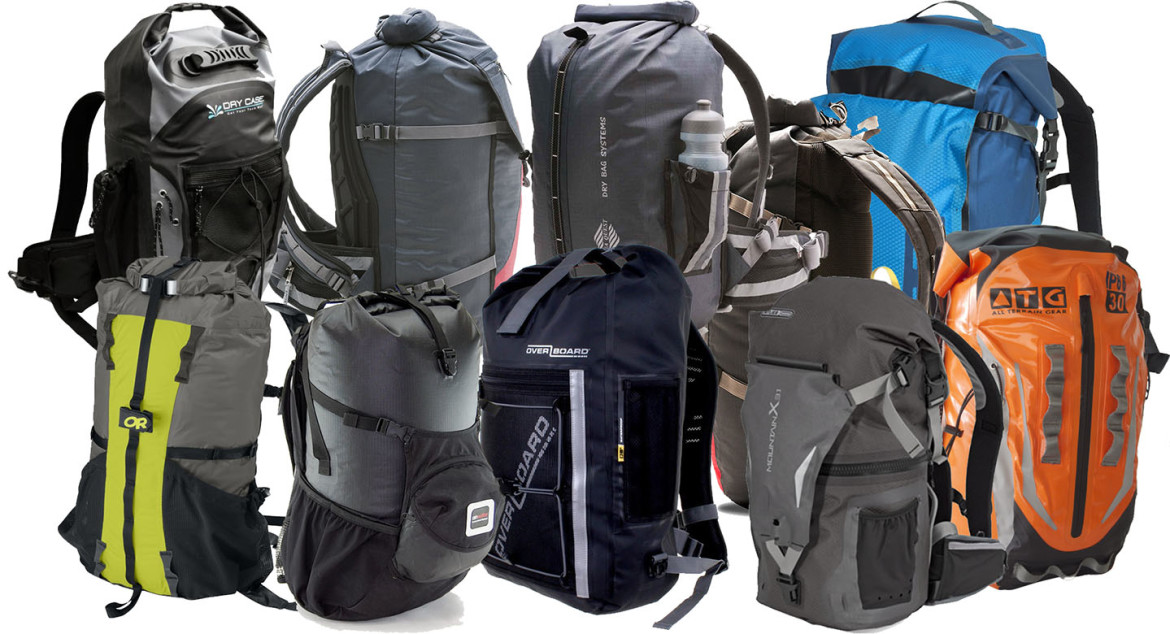 In my research to find the best backpack or daypack for any adventure, I created this comparison table of the best dry bags that could be used for just about any sport, be it dry sports or watersports.  Electronics are common these days and must be dry at all times.  Most daypacks are not completely waterproof and are therefore not acceptable as drybags for watersports, nor are they trustworthy for stream crossings or fording rivers. In researching the list of best waterproof backpacks below, these were the requirements:
Main compartment must be completely waterproof
Practical for all-weather hiking, scrambling, trekking, mountaineering, motorcycling in the rain, SUP, kayaking, windsurfing
Satisfy carry-on airport luggage size limit requirements
Not too big and not too small for 1 or 2 day adventures.  27-35 liters
Comfortable to wear for long durations
Should have at least one additional compartment for quick access to small items, maybe a hydration pack. Does not need to be waterproof.
Water bottle holder or pouch on the side, or at least a place to attach one myself.
Flight Carry-on size limits
Carry-on airport size limit requirements vary by airline and seem to change with time as well.  Luckily there is a general trend among most airlines such as United, American, Delta, Air Canada, WestJet, Ryanair, Spirit, JetBlue, easyJet, AirAsia, Norwegian, and others.  The trend is toward the new IATA guideline of  maximum size of 20 cm x 35 cm x 55 cm (about 8 inches x 14 inches x 21.5 inches).  If you stay approximately at or under this size limit, you should be good for just about any flight in the world.
Most drybag backpacks available are simply a drybag with shoulder straps attached.  I have not included any of those in the list below because I want an adventure backpack that is more convenient with external pockets and more comfortable for everyday use.
Some of the links below are affiliate links so I earn a small commission if you click and buy. It is greatly appreciated if you do! It helps fund what we are doing and encourage us to review more gear.
Name
Volume
Dimensions
Weight
Comments
Aqua Quest Stylin Pro
30 L
22in x 11in x 9.5in
(55cm x 30cm x 24cm)
2.1 lbs
For hydration you can either put a hydration pack in the large back pouch, or you can clip a bottle onto an upper side strap and then slide the bottle into the lower strap to prevent it from swaying. Has a reasonably big zipper pocket inside main compartment. Front zipper pocket and large front pocket are splash proof. The large front pocket is precisely 11 inches wide when flattened. This backpack is very comfortable with high density foam back and hip support.  I presently own this backpack and I think it's great and fits well at 6 ft tall.  My 15.6 in laptop fits beautifully in it along with lots of other gear.
Aqua Quest Sport Pro
30 L
20in x 18in x 8in
(50cm x 45cm x 20cm)
1.8 lbs
No easy access external pockets. Main compartment has internal zipper pocket. May be slightly too wide for checked-luggage. Does have water bottle holders and comfortable hip support and foam back design.
ORTLIEB Track
27/35 L
27L: 21in x 11in x 8in
35L: 23in x 11in x 9in
(27L: 53cm x 28cm x 21cm
35L: 58cm x 28cm x 22cm)
3.4 lbs
Has a large waterproof front pocket, water bottle holders, comfortable straps and hip strap waist padding. Has hydratoin pack sealed tube hole. Durable construction.
ORTLIEB Mountain-X 31
31 L
20in x 12in x 9in
(51cm x 30cm x 22cm)
2.6 lbs
Has waterbottle pouches and external pocket and comfortable design, but this one has a waterproof zipper that splits the bag in half, where there is a partition, so the upper half and lower half of the bag are separated. This partition would not suit my purposes as I need to carry a laptop in here sometimes. It seems a little overly complex.
OverBoard Pro-Sport
30 L
19.5in x 13.5in x 6.5in
(50cm x 43cm x 16.5cm)
2.9 lbs
Does not have waist strap padding, and the outer pocket is not splash proof, but otherwise fits the criteria. Durable, and nice to have the extra pouches.
EBERHARD GÖBEL Rainwalker
30 L
21.7in x 12.6in x 11.4in
(55cm x 32cm x 29cm)
2.5 lbs
The outer pocket can be left empty to satisfy airline carry-on size limits. Has a good set of pouches and pockets and design for comfort.
ATG Multi-Activity Backpack
30 L
22.8in x 11.4in x 7.9in
(58cm x 29cm x 20cm)
3.3 lbs
Has removable backpack system so it can be just a drybag if needed. Has a large outer zipper pocket. No water bottle holders.
Outdoor Research DRYCOMP Summit Sack
27 L
21in x 12.5in x 6in
(53cm x 32cm x 15cm)
0.7 lbs
This is an ultra light weight pack, that is the reason I am including it here. It has waterbottle holders. It does not have a thick foam back support or waist padded strap, nor does it have many pockets.  This pack will fold up very tiny and could be packed inside of another pack until needed.  This could be handy if you are carrying a large pack, but also want to carry a waterproof daypack too.
DRY CASE Waterproof Backpack
35 L
28in x 15in x 9in
(71cm x 38cm x 23cm)
3 lbs
Has pretty much everything on my list of criteria. As carry-on, it may be a little tall, so don't fill it the whole way up and squish it down. Worth consideration.
Aqya Quest Stylin
30 L
21.7in x 12in x 10in
(55cm x 30cm x 25cm)
1.8 lbs
Has no water bottle holders but see my comments about the Stylin Pro at the top of this list on how you can deal with this.  There is no padded waist straps, but the fact it sells cheaper than most bags, gets good reviews and has external pockets, makes this bag a contender.