Refreshing Coolness at Disney's Blizzard Beach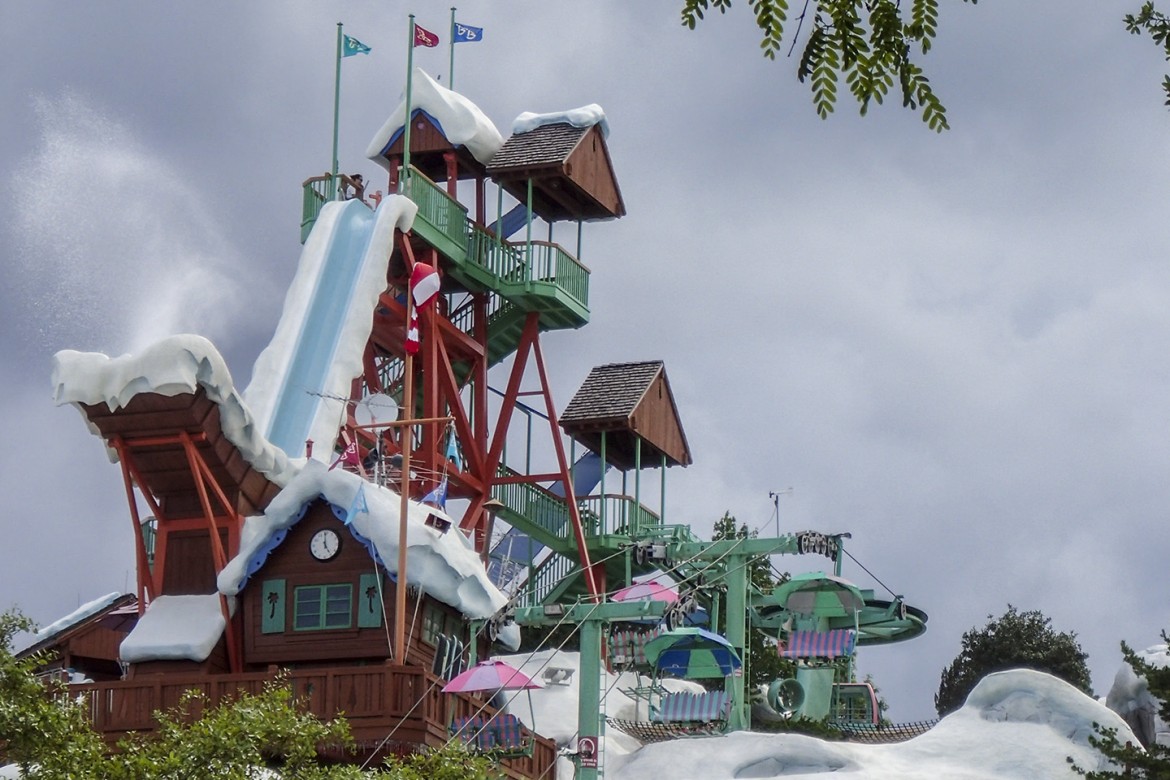 When you visit Florida, the last thing you want to hear is the word blizzard. Most people who fly to sunny Florida leave their cold wintery homeland behind to soak in the warmth of the Florida sun. They want nothing more than to leave behind their fur lined parkas and unfashionable winter boots. Tossing aside those mittens, hats and scarves. Throwing on the shorts and floral prints that have been hiding in the depths of their closets for months.
There is something oddly mysterious about the name Blizzard Beach. A name that seems so out of place in a tropical climate. Disney does it right though. Blizzards, the way they should be. Bikinis and water slides under the hot Florida sun. That's my kind of Blizzard.
Our niece and nephew flew to Florida to visit us during our stay. They wanted nothing more than to go to Disney. We wanted nothing more than to avoid it completely. Having been to most of the Disney parks on a previous visit, we view Disney as an overpriced, underwhelming experience of screaming children, stressed out families and ridiculously long lineups for everything. Certainly not "the happiest place on earth". I knew that water parks are always a hit with my niece and nephew so we decided on Blizzard Beach.
Arriving at 10am with extremely low expectations, we shuffled along in the ticket lineup, letting out sighs of disappointment for the first line up of the day. Surely not to be the last. We purchased tickets, moved along to the locker line up, then found a shady seating area to leave our towels and water bottles.
Having arrived with an organized knowledge of the most efficient way to navigate the park in order to avoid the line ups, we hurried up to the green slopes to slush gusher, summit plummet and teamboat springs. But wait a minute. As we climbed the stairs and looked around, we all noticed that there was hardly anyone at the park! I don't know how we managed to show up on one of the least busy days imaginable, but we did! Best day at a Disney park ever.
We enjoyed all the rides multiple times, sometimes repeating rides over and over before moving on to the next.
There are lots of things to love about Blizzard beach, but we've narrowed it down to our top 5 reasons for loving it.
1. For us, the park was almost empty. Which meant no lineups! We asked a couple of employees if this was normal and they said that between the tourist high season and the local kids summer break, there is usually a lower number of people coming into the park. We visited on April 13, 2015 with afternoon rain showers in the forecast (but it never rained).
2. Great slides for pre-teens and adults. We liked that most of the rides were geared for older kids (10+) and adults. There was a small area for younger kids too, but it was unimpressive. There were also a variety of slide types including body slides, tube slides, toboggan slides and a lazy river. The family ride was a hit with us.
3. Tons of shaded areas to sit. I didn't expect to go on as many slides as I did, so finding a shady area was a big concern when arriving. There were lots of shady spaces around the park for people who plan to sit back and relax. Since there were no lineups when we were there, we only visited our seats twice to eat.
4. You can bring in your own food! This was a huge perk for us. It saves so much money when you can bring in your own food. We packed a cooler full of lunchables and other snacks. We avoided all the food areas in the park.
5. Quirky theme. The ski resort theme is indeed tacky. But it was interesting and different. For us Canadians, seeing a ski themed park in the middle of Florida was entertaining. Sitting on a chair lift in a bathing suit instead of our warmest winter gear was a treat.
Check out our video from a few of the rides!
Our overall experience was fantastic, we loved Blizzard Beach and stayed right until they closed the rides for the day at 5pm.
Have you been to Blizzard Beach? Did you enjoy it as much as we did?

Latest posts by Jill Patterson
(see all)