First Impressions: Medellin, Colombia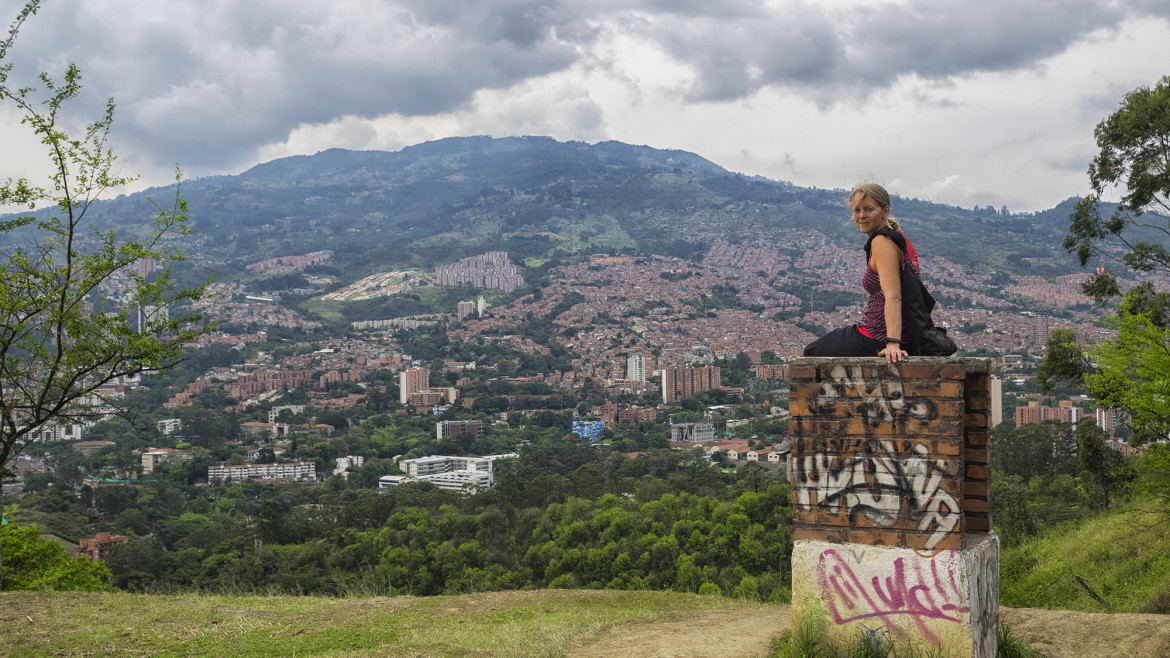 First impressions are a funny thing. They can make or break an experience based on very little knowledge of the thing being experienced. We judge, we perceive and the first impression is formed.
We've been in Medellin for 2 weeks now. Not nearly long enough to give a perfect summary of what this city is. We can tell you about the things we've noticed so far. We can show you a tiny glimpse into our perception of the city that surrounds us.
The Colombian people are ranked as some of the happiest in the world. We have definitely noticed a more laid back culture here. But happiest? I'm not so sure. No one is angry, or stressed, or upset. Horns honk constantly but not because of angry drivers. Honking here seems to signify one driver letting another driver know they're there. Maybe not being angry does signify that people are happy and content. Coming from a North American culture, this lack of anger is confusing and refreshing all at the same time. However, it definitely is nice to be able to go into any store, walk along any street and not have to deal with angry, stress out parents screaming at their misbehaving children. That simply doesn't happen here.
Colombians like to celebrate. For any reason. On any day. We were told, during our walking tour of the city, that here in Medellin the people have gone through such difficult times in the past that they learned to appreciate any glimpse of happiness they could find. When people were being murdered in the streets and it wasn't safe to send their kids to school, Colombians would grasp onto anything that gave them a reason to celebrate. Even though Medellin is safe today, the locals still like to celebrate.
Medellin has the first and only metro system in Colombia. The people here have an incredible amount of respect for this train system since it signified a brighter future when it was built during very difficult times. You won't find any garbage or graffiti on the metro. It's probably the cleanest public transportation in the world.
We've noticed lots of other things about the city, like the street vendors who walk up and down every street in our neighborhood every morning, yelling out the names of everything they have for sale. People here love Zumba, they have giant Zumba gatherings in local parks. Many of the parks offer free outdoor Wi-Fi. There are free outdoor gyms. Vegetarian restaurants! We have been finding them everywhere and they're fantastic. Food here is cheap, lunch is $10,000 COP ($3-4 USD) and you get a fresh juice drink, a big bowl of soup, a heaping plate of food and a little dessert.
Is Medellin a livable city? Yes, definitely. Does it have every modern amenity available? Yes. Is it easy to get around? Yes, public transportation is fantastic. Is it cheap? Yes. Are there good restaurants, bars & cafes? Yes, yes and yes. Easy access to Wi-Fi? Yes. Medellin is a top notch city. Expats love it here.
So why don't we love it here? The city of eternal spring. Or for us Canadians, the city of eternal summer, because lets face it, it's above 28 degrees Celsius every single day. That's a hot Canadian summer. For us the city feels suffocating. It's loud and busy and overall not very pretty. Two thumbs up for the beautification that is currently taking place in the city. But the beautification is a work in progress. Most of the city is not beautiful. We are surrounded by mountains, the thing we love, our typical get-away, our escape. But, there are apparently no trails up them. The land is all privately owned and permission must be given to hike on private property. Since we don't speak the language, it's very hard to find information about any of this. The one thing that makes us feel alive (hiking mountains), sits just outside of our reach.
We have thought about leaving Medellin to travel around the country. It can easily be done. But that takes us back to the type of travel we are trying to avoid. The city hopping, sight-seeing, check things off a bucket list, vacation styled travel. This is our life, we no longer need to rush through it. We will be taking a 10 day trip to the coast to see if our views on traveling around change. But until then, we will embrace slow travel.
If Medellin is on your list of places to visit or live, we recommend knowing a lot of Spanish before arriving. Obviously, you will get by without it, since we are managing to get by without it. Not knowing the language certainly doesn't make things easy. We did manage to find an English speaking Tigo cell phone representative (at the Oviedo shopping mall), so we bought sim cards for our phone (1G = $41,000 COP, includes free Facebook and WhatsApp usage). I also figured out how to order an ice cream. So I celebrated. It's the small victories.
Everyone we've ever talked to about Medellin has said how much they enjoyed the city. What are we missing?

Latest posts by Jill Patterson
(see all)