Gear review: Capture Camera Clip by Peak Design
Everywhere we go we're always asked "What is that?" or "How is your camera staying on your shoulder strap like that?" and "Where'd you get it?" After 2 years of answering these questions, we think it's time to write a review and tell you about the awesomeness!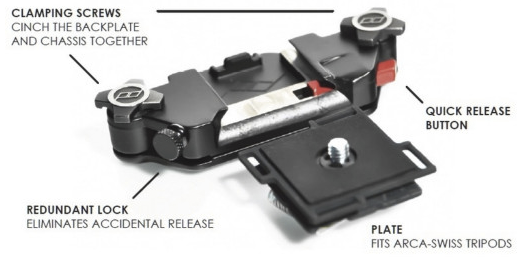 The Capture Camera Clip is an aluminum clip to hold your camera on a backpack strap (or belt) so you no longer have a camera dangling around your neck. It has an attachment that goes on your backpack strap and another one that connects to the tripod mount on the bottom of your camera which is called a quick release plate. Together they make the greatest must have accessory for any hiking photographer. There are currently 4 styles of quick release plates: standard, ARCAplate, DUALplate and MICROplate. You can read more about these on the Peak Design website.
We own three Version 1 Clips with ARCAplates* plus one MICROplate. They go EVERYWHERE with us! If our camera goes with us…so do the clips. We've taken them hiking, biking, snowshoeing and even kayaking! Obviously they don't claim to protect your camera from water damage but you will certainly have peace of mind that the camera will stay where you want it at all times.
Things we love about this product:
Allows for hands free walking, running, climbing…etc.
Camera is always out and ready for action
Puts camera in one sturdy location and prevents swaying and bumping of the camera
Build quality is excellent (this is for version 1 clip, we haven't tested Ver.2)
Ease of use is exceptional
Works on any camera
Multiple base plates for regular sized DSLR cameras as well as the micro 4/3 cameras
Things we dislike about this product:
It's expensive
Version 1 has some galling issues after 2 years of regular use. The powder coat can wear off and makes the quick release plate difficult to slide into the capture clip. Peak Design has fixed that with Version 2 by using hard anodization instead of powder coat and the whole mechanism in v.2 is much smoother.
 The MICROplate screw connection mechanism is hard to use. Other plates we have come with a flat head screw that you could use anything to unscrew it with (keys, coins, etc.). The MICROplate has a "handle" type mechanism which functions ok, but it's hard to grasp the handle when it's in the "down" position, Peak Design refers to it as a "D-ring connection screw with hex drive". We don't carry a hex key with us and it's difficult to squeeze our fingers around the "handle" to pry the it up. We would really love to see this changed in future versions of the plate. See photos below.
We love our Capture Clips, we tell everyone about them and highly recommend them. Although the clip does have a couple of flaws, it's convenience and functionality make it a product worth having!
Since we first purchased our Capture Clip, Peak design has invented a bunch of new fancy accessories. We're sure those are just as good as the Capture Clip so go have a look for yourself! https://peakdesignltd.com/
*Version 1 clips are fully aluminum with powder coated quick release plates and differ from current available models. Version 2 clips are improved and now come in 2 different options:
Capture – Aluminum body with glass-reinforced nylon backplate. Includes a die-cast aluminum ARCA-compatible quick release plate.
CapturePRO- Aluminum body with heavy-duty aluminum backplate that converts Capture into a tripod quick-release clamp. Includes your choice of PROplate made of anodized aluminum.

Latest posts by Jill Patterson
(see all)