Jill's Full Time Traveler Gear Guide With Camping Gear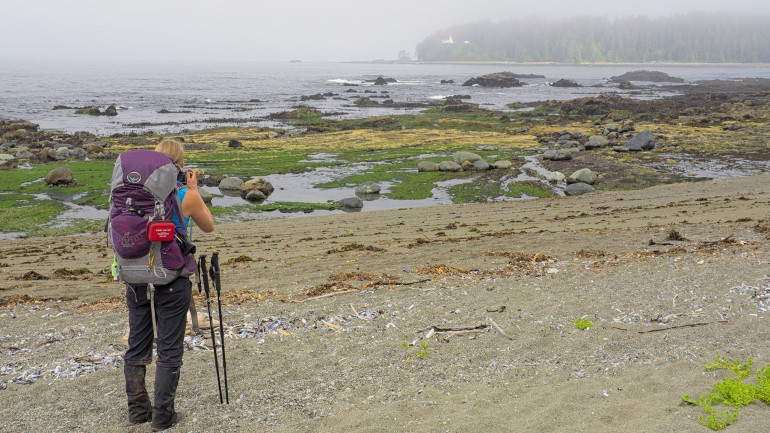 Ever wondered what you need to pack for full time or long term travel? Or maybe you've seen those crazy backpackers walking around with heavy packs and you've simply wondered what's inside. Wonder no more, I've put together a list of what's in my pack.
You can consider me a do-everything traveler. I don't mind spending the night in a fancy hotel, but I also like to set up camp in the middle of the forest, I have packed for both scenarios. Our current traveling patterns are putting us in monthly rentals, AirBnB's and apartments. We do expect to be on a few long distance back-country hiking trails in 2016.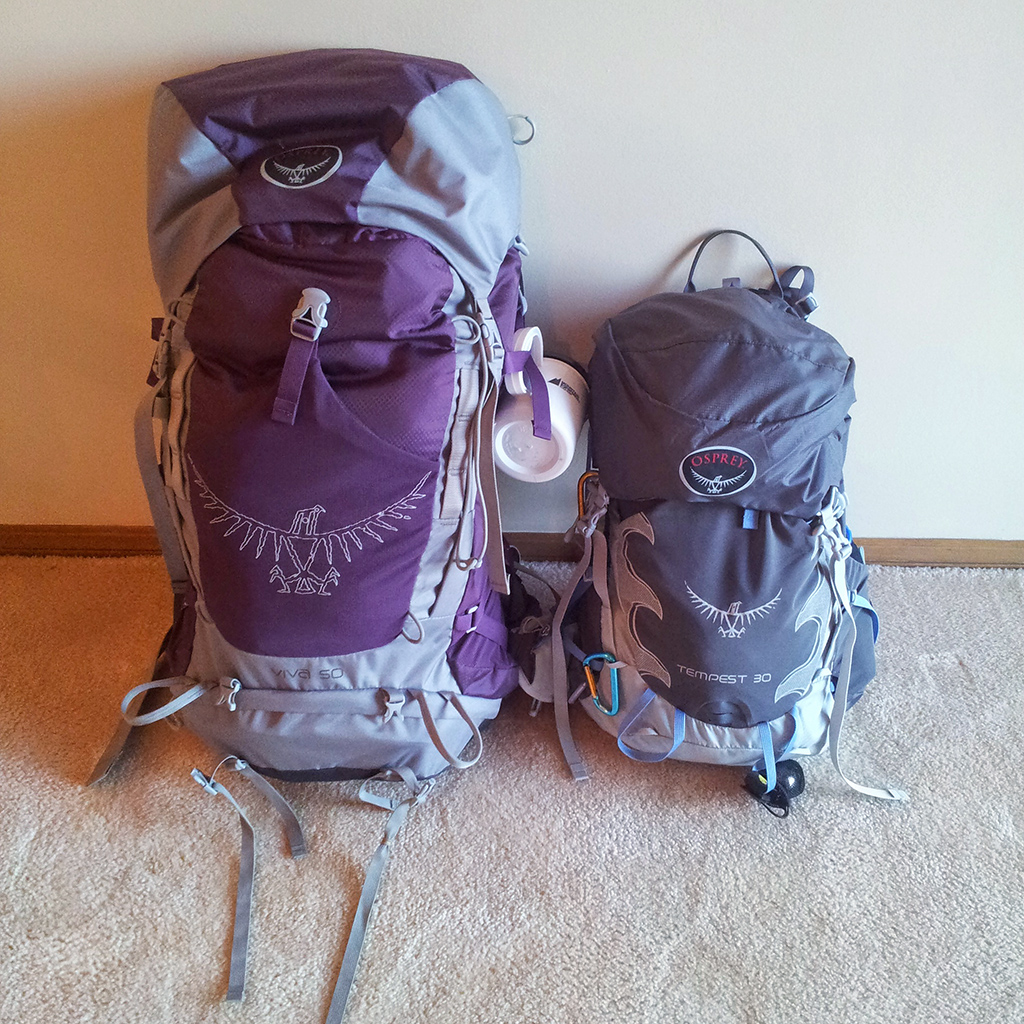 My full 50L pack weighs about 28 pounds, and my 30L weighs about 15 pounds. At the moment I am planning to upgrade my 50L pack to a 65L, this should allow me to reduce the weight in my daypack and only carry electronics and camera gear during airport visits. I have found that my daypack is very awkward to carry around when I have my 50L pack on my back, so I have recently bought a small rolling carry-on suitcase. I simply put my full daypack inside the rolling luggage when traveling to and from the airport, it has made things so much easier. The only time I have both the 50L and the 30L backpacks on me at the same time is when we go to and from the airport.
Since I'm only one half of this traveling duo, Curtis has created a separate list of his own. A lot of the camping gear we are traveling with is shared between us and Curtis carries all of our shared gear.
Some of the links below are affiliate links so I earn a small commission if you click and buy. It is greatly appreciated if you do! It helps fund what we are doing and encourage us to review more gear.
Backcountry Camping Gear
My pack isn't big enough to carry a lot of gear. Which is why I don't recommend my pack for multi use traveling. My Osprey Viva 50L works fantastic as a backcountry camping pack, it also works fantastic as a backpack Europe type pack. It does not work if you intend to carry camping gear while backpacking Europe.
65L Pack
Much more user friendly than my current 50L pack

30L Backpack
I have the size small which is actually only 28L.

Gaiters
For snowy or muddy treks, or scree fields

Mug
Insulated with lid. For tea or oatmeal.

Long spork
Longer length for eating dehydrated meal packets
---
Clothing
The list below is not a good example of minimalist packing, but it is a great "have everything" list. Since I'm not packing extra camping equipment, it appears that I have filled that space with clothing. I love yoga pants…and yoga tops. I have nothing more to say about that. The only thing that I have found lacking in my clothing is a winter jacket, in the future I will switch out one sweatshirt for a North Face Thermoball winter jacket. For backcountry camping, this clothing list gets significantly smaller.
Warm hoodie
fleece-like, low weight, compressable fabric

Winter hat
knitted exterior, fleece lined with earflaps

| | |
| --- | --- |
| | Jeans |

Dressy Shirts (2)
a shirt that can be dressed up or dressed down

Black skirt
wrinkle resistant material

Sleep set
shorts and tank top

| | |
| --- | --- |
| | Bra (2) |
Trail runners
For everyday use or easy hikes, waterproof, breathable
| | |
| --- | --- |
| | Sandals |
| | |
| --- | --- |
| | Bikini (3) |
---
Electronics
For backcountry camping trips most of my electronics are left in storage. I only take my cell phone and E-reader.
E-reader
perfect way to carry a lot of books, the new upgraded version of mine is now waterproof!

| | |
| --- | --- |
| | Phone flip case |

| | |
| --- | --- |
| | Ipod & Headphones |
---
Photography
My camera gear is fairly minimal. Curtis carries most of the specialized lenses. We switched to the Olympus micro 4/3 system just before our travels started. It was an intentional switch from the bulky DSLR's to this system. It has turned out to be a fantastic choice. Less weight and top quality lenses have allowed us to continue producing top quality photos. I recently switched from the 12-50mm kit lens to the pro 12-40mm f2.8, but I still carry both lenses until I can sell or store the original kit lens.
Sling camera bag with removable liner
Most versitile bag I've found. Removable liner easily fits into backpack for hiking, works well as a carry on, has extra storage, without the liner it works as a purse.

Step-Up Rings
To fit 67mm filters to all my lenses I have 62-67mm, 52-67mm, 58-67mm step up rings
---
Miscellaneous
Toiletries
I seem to have an endless supply of toiletries…razors, asprin, scissors, eyelash curler, foot scrubber, etc, etc, etc

Small roll of toilet paper
Some washrooms don't have any, or it costs money.

| | |
| --- | --- |
| | Ziplock freezer bags |

| | |
| --- | --- |
| | Hair brush (2) |

Stationary
Notebook, pocket calendar, pens

Rolling Carry on luggage
Yes. Because I can. I bought it at Goodwill for $4. Best $4 I've spent.
---
Like this post? Pin it for later!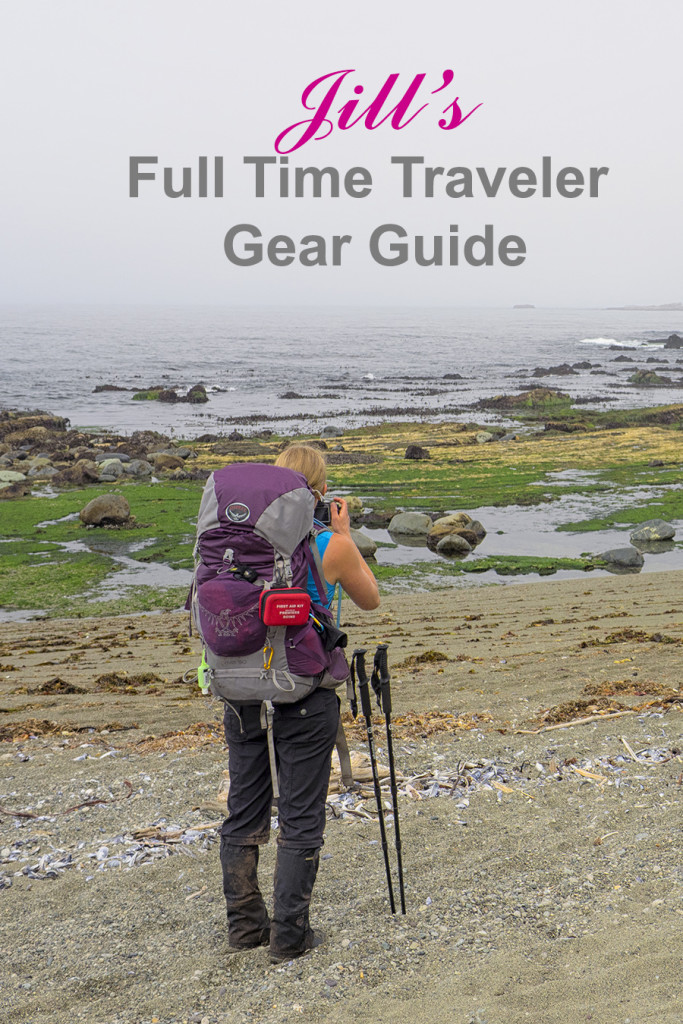 Latest posts by Jill Patterson
(see all)