Kayaking Crane Creek on Florida's Space Coast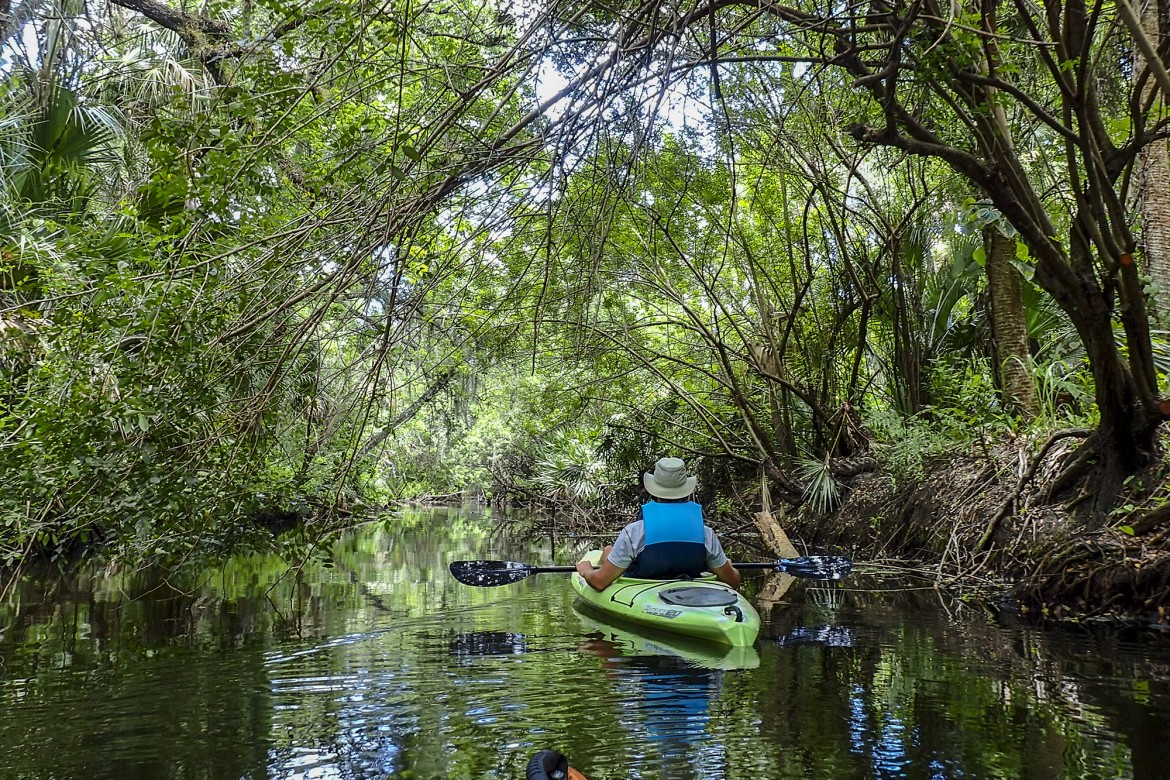 The city of Melbourne, on Florida's space coast, is where we have called home for the last couple of months. A small city bustling with loud trucks and even louder motorcycles. It has more noise pollution than most cities three times it's size. It's not a place that I would think of when I envision going on a relaxing kayak trip.
Karen's kayaks promised a relaxing paddle through tree canopies and quiet wilderness along Crane Creek. Slightly skeptical of the location since we had been staying with my mom, who happens to live right beside the creek, and the apartment has a very loud surrounding area.
We met with Karen, a wonderfully chatty and bubbly person, at the meet location and discussed our options for the day. After picking a suitable drop in spot (due to wind), we got a brief reminder on how to paddle. It had been a while since either Curtis or I had been in a kayak. It wasn't long before we were gliding into the windless canopy of trees.
The creek weaves along Melbourne Avenue, showing us beautiful homes and then dipping into a secluded jungle like atmosphere. We felt miles away from the noisy city streets that were just beyond the river banks.
Karen knew all the alligators in the creek, she knew exactly where their hiding spots were. We were only able to see one alligator, but she assured us that there are more in the creek, they were just hiding.
The creek is also home to manatees. In the winter months you can see manatees everywhere along the creek, however, we were approaching summer when we were on the creek so manatee sightings were low. We did spot a couple of shy manatees, we watched them as they swam away from us.
We got our wish for a quiet kayak trip. The creek was surprisingly pleasant. Karen was an wonderful guide, very friendly and knowledgeable. Definitely plan to spend a few hours on the water with Karen if you're in the area, you won't regret it!

Adventure is for everyone!

Jill is the founder, writer, photographer and travel agent at Chasing Adventure Travel. An adventure travel blog that has morphed into a travel agency, specializing in Active and Adventurous Travels.

Jill has traveled worldwide and spent almost 2 years traveling continuously with her husband. She has traveled to resorts, crossed an ocean on a cruise ship, motorcycled multiple times around Europe and experienced self-guided long term travel.

~ Dreamer, doer and energetic go-getter. Curiosity has inspired adventurous world travel. Imagination is everything ~

*Chasing Adventure Travel is in affiliation with Nexion Canada.

Latest posts by Jill Patterson (see all)