Sun Scorched Nudity at the Maspalomas Sand Dunes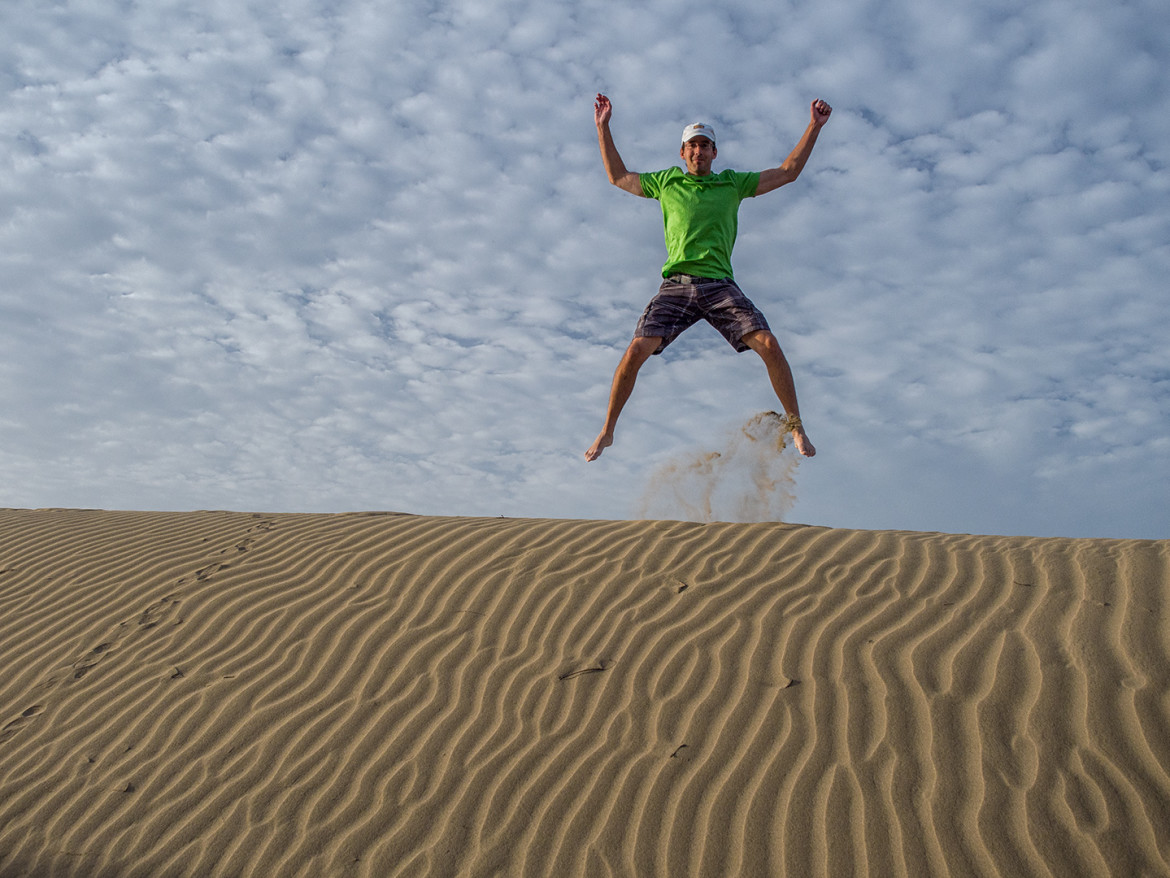 We were under informed and clearly overdressed for the occasion. What started out as a typical Sunday afternoon for us on Gran Canaria Island quickly turned into absolute bewilderment of things that can never be unseen. A quick google search of things to do in Maspalomas will guide you to visit the local Sand Dunes, you may find a small sentence stating that the area is nude and gay friendly, like we found. No big deal we thought, people get naked, that's cool.
We knew ahead of time that there were walking trails that go from the back of the sand dunes to the actual sand dunes and the beach, so we parked our car near one of the trails. We happily started to trot through the bushes towards the massive dunes, but something just felt "off". We started to notice that there were people hiding in the bushes and under trees. Maybe these are the newcomers to the naked game and they don't want to be on full display down on the beach, we thought. As we continue on our merry way, it begins to seem weird. Why are there men standing under trees on top of the dunes with their clothes neatly hung from the branches? Looking as if they were sailors standing on the ship's lookout deck desperately searching for land. "What is going on?", we wondered out loud.
As we started to approach the actual sand dunes there were men, mainly naked men, that started to pass by us on the trail. I became acutely aware that my husband was suddenly eye candy to every man we passed. I felt my inner lioness start to roar, "he's MINE!" I kept repeating in my head as I stared into the eyes of every man beast we passed, in hopes of relaying some sort of telepathic message. We hadn't even reached the beach or the main sand dunes yet, but we were already feeling highly out of place.
As we chatted back and forth about what we were witnessing we reasoned that this is a tourist area so once we get to the beach there will be more tourists and less nakedness and less men on the hunt. We could see the water, we weren't far from the beach, we cut through the valley of two sand dunes avoiding eye contact with those that were clearly staring at us in all our clothed glory. We came around the corner of the dune to find ourselves officially at the beach. We had a clear view of the kilometers of beach that stretch out before us and our jaws dropped. WTF!
OK, so at this point in the story I should tell you that in Canada, public nudity is not a well established trend. Let's face it, it's damn cold here most of the year so most people just aren't all that into being naked outside. Curtis and I have seen naked on the beach before, usually it's in the form of boobs or the random brave sole (probably a European) naked on a Mexican beach. We think that we're mature individuals, likely prudes, but what stood in front of us was more than our brains could comprehend.
Two kilometers of sand was in front of us and on this sand were thousands of naked people. The demographic of this group was approximately 80% gay men with the remaining 20% being men and women over the age of 65. How do you not stare at this? At all of this? I felt completely out of place not being the object of interest. Men eyed Curtis and more than a few grabbed on to their manhood and flipped it up as we walked by as if it were some sort of mating display. Curtis immediately put on his imaginary blinders and stared at the sand as we dodged and weaved through the sea of naked on our way to what we hoped was the beautiful dunes we saw in all the internet pictures. No where was it stated that we would have to suffer through the smell of shaving cream from thousands of freshly shaven scrotums on our way to these elusive sand dunes!
I have never seen so many limp penises. I had so many questions! Are these men all gay? They must be by the way they're looking at Curtis and not me. If they're all gay and are all around other gay men, why do they all have soft penises? Do gay men have the ability to harden or soften their penises at will? Was that an inward facing ass? How does that even happen? Did he just grab a hold of his ball sack and un-stick it from his leg? Why are there so many gay men? Where are all the gay ladies?
We walked until we felt completely awkward, finally making a run for it up a tall dune. From the top we could finally see the landscape that the internet told us existed. Very few people were up there with us. Those who were, appeared to be straight couples, all of them wearing clothes. Finally we were able to haul out the camera and take the pictures we came to take.
As the sun began to set we raced back through the trails trying to avoid the hungry man beasts. Most of the hidden creatures had disappeared, those who remained were clearly waiting for something. The internet later told us that this area is know to be a place for sex, hookups and amateur film. Maybe avoid taking your kids to visit this area.
Have you ever showed up somewhere when you were not at all informed about where you were going?

Latest posts by Jill Patterson
(see all)