The beautiful hiking island you might not know about: Gran Canaria, Spain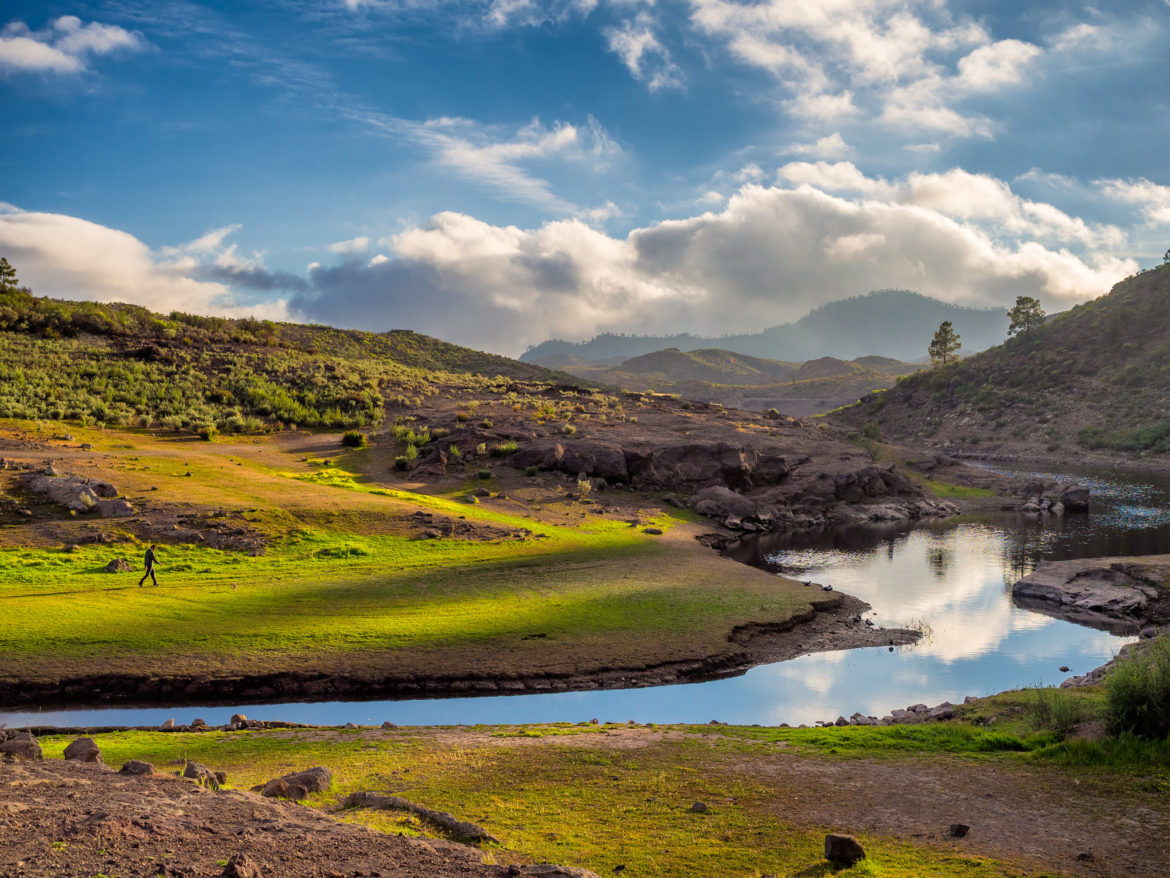 Gran Canaria might not be your first thought for mountainous hiking destinations but I promise if you go to hike, it will be worth it. We put a lot of thought into where to spend our winter. We had it narrowed down to two main requirements: there must be big rock topped mountains and it must be warm. Those don't seem to be difficult requirements until you decide that you want to be in that location in December and January. Suddenly, most easily accessible mountain hiking locations drop off the list. New Zealand was further than we want to go at the time and our previous months in Colombia had completely swayed us away from spending anymore time in South America. We finally found a couple of blog posts that said Gran Canaria has outstanding hiking. So that was it, someone on the internet claimed there was good hiking so we booked our flights and were on our way!
In case you're unfamiliar, Gran Canaria is a part of the Canary Islands located just off the coast of Morocco and belonging to Spain. This tiny circular island is about 47 km across, which makes it an easy island to navigate your way around. With such a small land mass, we were completely shocked at its diversity. From beautiful coastal walks to mountains rising 1800 meters above the sea, dry desert like landscapes to lush tropical forests, this island has it all.
We rented a car for a mere $8 USD/day which made traveling around the island for a month extremely affordable. For all our hikes, we used Wikiloc to find trail locations.
Barranco de Guayadeque was our first walk in the countryside. It was an accidental hike. Our GPS was attempting to take us to a different hike, but couldn't seem to figure out that our tiny car was not equipped to travel down a dirt 4×4 path. So, we parked when the pavement ended and started our walk up the dirt road to the top of a hill. This was were we first discovered the massive amounts of terraced fields. These fields are no longer in use but the amount of work that it must have taken to create them was impressive.
Maspalomas Sand Dunes should have more signage leading you away from the less desirable area around the bushes. The Sand dunes themselves are a ton of fun to walk through and play in, but be aware that the bushes behind the sand dunes are known for sexual activity.
Caldera de Los Marteles to Rincon was a beautiful hike. Following the small winding roads that weave their way up into the mountains, you find yourself on the edge of the Los Marteles crater. It's an easy walk down to the town of Rincon with beautiful views of the countryside and ocean below.
Caldera Bandama is a little more popular trail for tourists due to it's easy access and easier trail. It has beautiful views in all directions and interesting pathways that take you down into the crater floor.
Pico de Las Nieves is the highest peak on Gran Canaria. You can drive all the way up to the parking lot at the peak or you can park lower down and follow a number of pathways that take you on an easy walk to the summit. We parked on the GC-600 near Llanos De La Pez and walked up. It was beautiful.
Roque Nublo was definitely our favorite hike on the island. This landmark is also accessible by car giving you a short 1km walk to Roque Nublo. We opted to walk from the town below called La Culata. It was an amazing walk that takes you through a beautiful forest and interesting terrain. It has surprisingly few hikers for such a popular landmark, we may have passed 4 or 5 people. The only busy section was from the car parking access to the actual rock, other than that we pretty much had the trail to ourselves.
Playa GuiGuii was a dry desert like hike up and over a mountain pass that takes you down to a secluded beach. The mountains along the coast are dramatic and the beach will have few people on it. Take lots of water, there is very little shade on this hike. Make sure you stop and enjoy a limonada near the bottom of the trail. There is a small house that sells beverages.
Barranco de Los Cericalos is a tree covered route through a lush green forest. There is a small waterfall at the end and stream that runs along the pathway, making the walk rather enjoyable.
Valsendero has a trail that takes you along what appears to be an abandoned road with a few abandoned houses and cave houses. It looks like the area was previously used as a chestnut orchard since the trees are everywhere. It's a beautiful hike, although at the end of the road there was a fence that gated off the road we were hiking, so I'm not sure if we were even on the right trail. After jumping the gate, we followed the main road a short distance and continued back down on another marked trail that took us back to our car.
Presa de las Ninas was the last hike we did during our time on Gran Canaria. Located in the southern part of the island, where the landscape is much drier and the mountains are just as beautiful. There was a beautiful view of the man made lake (due to the dam) and well marked trails.
We did a number of coastal walks, none seemed to have specific trail names, but there are paved and dirt trails all along the island connecting coastal towns.
The majority of Gran Canaria did not feel touristy at all. Going into the two cities, Las Palmas and Maspalomas you can definitely get a touristy vibe. That being said, nowhere on the island felt as touristy as some of the places we've been in the Caribbean.  These islands are definitely Europe's version of the winter getaways that we North America's refer to the Caribbean as. Except they have maintained their original charm.

Latest posts by Jill Patterson
(see all)