The Magnificance of St.Maarten | View from an ATV
We stepped into the heat and humidity of St.Maarten. An almost suffocating heat in comparison to our air conditioned cruise ship. It was only 9am, how could it be this hot! "I can't ride a mountain bike in this heat", I said to Curtis. We both knew that our plan had to change! Suddenly with no itinerary we found ourselves stumbling through the hordes of cruise ship passengers, trying to make our way towards the town of Philipsburg.
Happy to have bypassed all the tour operators trying to sell us an island tour, we walked out the port gates and started walking towards town. Within seconds we noticed a group of locals standing around, damn it! They were selling something! We tried to duck past other tourists who were caught in their sales pitches, and with our backs turned we heard "scooter rental!". In unison, without saying a word, we both stopped. We've never said "no" to a scooter rental in a foreign country. Today was different though. This particular company also rented  ATV's, so we said "no" to the scooter and jumped on the chance to ride a street legal ATV around this tropical island.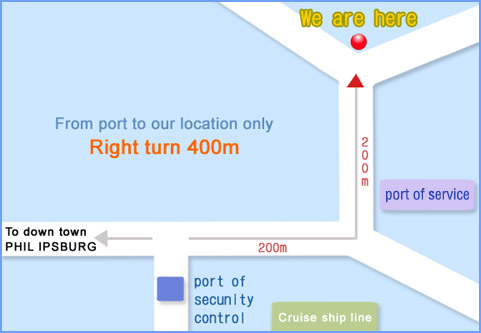 It seemed like a shady deal, we followed our really friendly salesman 100 meters from the port gates to a tiny gravel parking lot, he told us to get in his car. At this point I'm seriously thinking…this is a really bad idea. Yet, I found myself sitting in the back seat being taxied another 300 meters to what looked like a shamble of a garage. Dark and dirty, and still looks like a really bad idea. Honestly, I questioned my own sensibility on this decision. I can say with 100% certainty that this was one heck of an awesome day. Aside from outside appearances, Solid ATV Scooter Rental is a fantastic company. Everyone was extremely friendly and helpful. The owner was very thorough on how to ride and where to ride. Circling all the places on the island map where we should stop and giving estimates on time to get from one place to another. Two big thumbs up from us!
We did a complete lap around St.Maarten, approximately 50 kms in total. Stopping in Baie de L'Embouchure, Cul-de-Sac and after a couple wrong turns, we found our way to Marigot, Maho Bay and back to Philipsburg. St.Maarten is so beautiful, our photos do not do it justice.
Knowing very little about St.Maarten, it was a comforting surprise when we sat down for lunch in Marigot and the waitress greeted us with "Bonjour!". Living in Canada, we should know more of the french language than we do, considering that it's one of our official languages. It would not have mattered what she served us, I would have loved it anyway. The delicate and friendly way she spoke "Comment allez-vous?" was enough to make everything fantastically joyous. From my recollection, our trois fromages pizza was delicious!
After our delightful lunch, we made our way over to Maho Bay which was awesome. I had seen pictures online from this particular beach. The airport mere feet away from the sunbathers. I needed to see this for myself. It did not disappoint!
We spent most of the day riding around and after a few more stops for photos, we made our way back to the boat.
Our only regret about this island stop was that we did not stay long enough. St.Maarten is divided in half, the northern side is known as the french side. The southern side is the dutch side. Both offer equal amounts of character and history that we did not get to fully experience. We're told that the hills are home to fantastic mountain biking and we think we missed out on that. The ocean is absolutely beautiful and we did not step foot in it. I do believe St.Maarten will see us again, and maybe next time we'll be looking down at Maho Bay instead of standing on it looking up at the arriving planes!

Latest posts by Jill Patterson
(see all)