Unparalleled Canadian Hiking: Lake O'Hara, All Skill Levels Welcome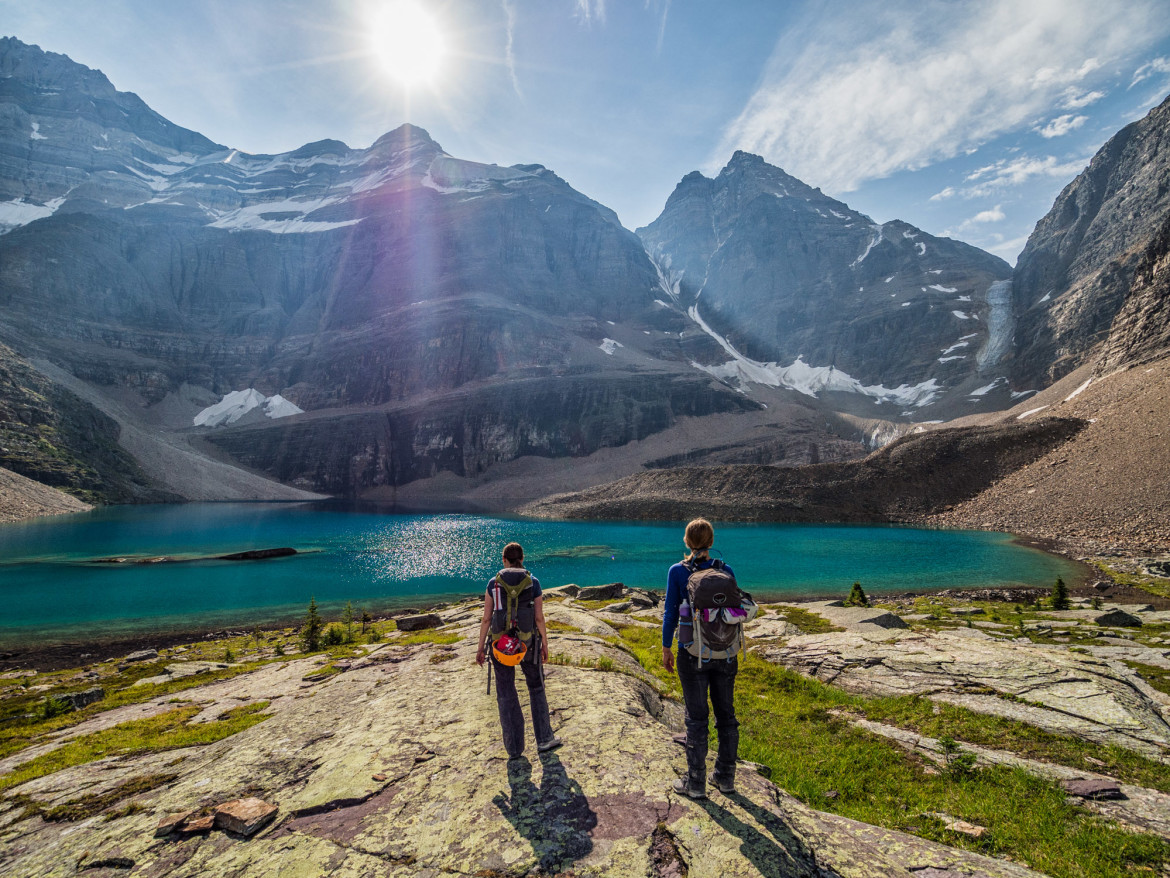 We've hiked in the Canadian Rocky Mountains for over 10 years. The view from the top of a mountain is always inspiring for us. It's always refreshing. It's always beautiful. Just when we thought that the beauty of the Rocky Mountains couldn't amaze us anymore than it already had, nature stepped it up and once again reminded us that it wasn't done showing us unparalleled beauty.
The beauty of the Lake O'Hara area is that you don't need to climb to the top of a mountain to see spectacular sights. Walking beside the many lakes is a feast for the eyes. Stunning blues and greens color every lake and towering mountains are an impressive backdrop! Well maintained pathways guide you on flat terrain around many of the lakes. The pathways between lakes can be a bit more difficult, but still well maintained so give yourself a little extra time, pack lots of water and enjoy the views.
Being the adventurous type, we opted to climb higher. We stayed the night in Abbot Pass Hut, which is located on the continental divide between Lake Louise and Field. Built in 1922, this stone hut is the second highest permanent structure in Canada. It sits at 2,926 m (9,598 ft) on the pass between Mt.Lefroy and Victoria.
This hut was original intended for mountaineers continuing on to Mt.Lefroy and Victoria, both routes start from the hut. More and more overnight hikers and scramblers (like ourselves) are doing the trip up to the hut for a night or two and then going back down to the Lake O'Hara area instead of continuing on to do the mountaineering routes.
The route up to the hut from Lake Oesa is for seasoned scramblers. If you don't know what a scramble is, this trip up to the hut is probably not for you. The route is almost non-existent due to the amount of falling rocks that continually land on the trail and completely cover it. You claw your way up and over loose boulders for about 2 hours in order to get to the hut. There was a moment that I questioned my sanity on this trip as I felt myself sliding back down the extremely steep mountainside on top of tumbling boulders that I had previous thought were stable. In a panic I quickly decided that running over top of the moving boulders to reach the stable ground was a good idea. All that did was create a bigger rock slide. It's terrifying when all the rocks around you start to slide downhill.
There is a feeling of accomplishment when reaching the hut. It's probably more of a holy-shit-I-didn't-die feeling. But still, it's a good feeling. You can't see the hut until you're in front of it, so you never really know how much further you have to go when you're climbing up. I was the first one in our group of three to see the hut, I was overjoyed. The happiest I've felt on any hike/scramble.
It's almost surreal to see this stone building perched on the pass. The steep cliff like area we came up is to the south of the hut; the north side is a glacier and the expansive mountains of Lefroy and Victoria at both the east and west of the hut.
The outhouse has windows and might have the best view from any outhouse in the world!
The trip back down was much easier than the trip up. We found a scree field and ran most of the way down. Once we were back at Lake Oesa, we decided to make a loop back to the bus stop instead of going back the same way we came. We took the Yukness Ledges which looped us around to Opabin Lake and a number of other smaller lakes. The morning colors over the lakes looked magnificent.
We loved our time around Lake O'Hara. The stay at the Abbot Pass Hut was something that we had reserved months in advance and were thoroughly looking forward to it. Even with it's difficulty and sleepless night with 11 other hikers, it was well worth the trip. We recommend taking earplugs because some hikers will get up a 4am to do the mountaineering routes and others will snore all night long.
Lake O'Hara is one of our recommended adventures. To see more stunning photos from our hike, check out our photo essay post.
Check out our adventure guide to find out how you can do this adventure too!

Adventure is for everyone!

Jill is the founder, writer, photographer and travel agent at Chasing Adventure Travel. An adventure travel blog that has morphed into a travel agency, specializing in Active and Adventurous Travels.

Jill has traveled worldwide and spent almost 2 years traveling continuously with her husband. She has traveled to resorts, crossed an ocean on a cruise ship, motorcycled multiple times around Europe and experienced self-guided long term travel.

~ Dreamer, doer and energetic go-getter. Curiosity has inspired adventurous world travel. Imagination is everything ~

*Chasing Adventure Travel is in affiliation with Nexion Canada.

Latest posts by Jill Patterson (see all)