Adventure Guide: Hiking on Gran Canaria Island, Spain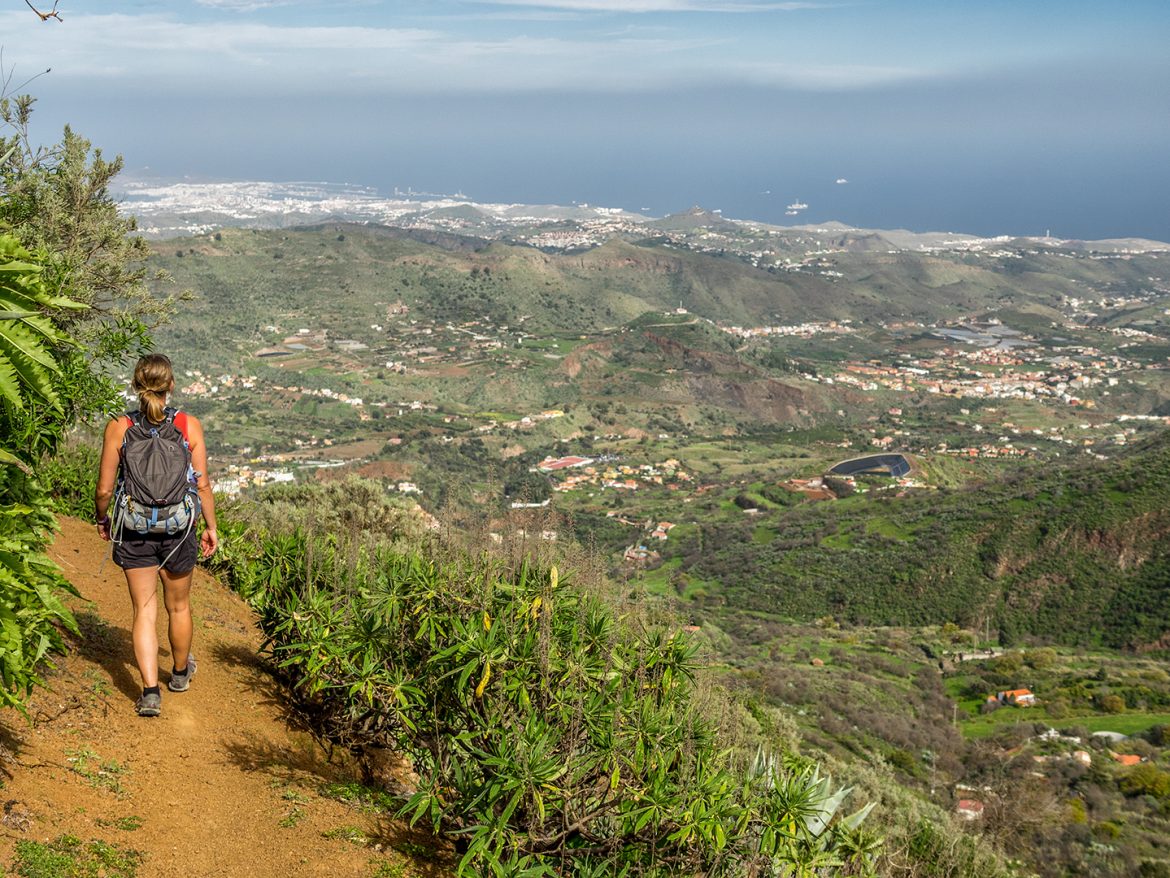 An island of adventure that is sadly seen as only a winter getaway for beach goers. Gran Canaria is a part of the Canary Islands off the coast of Africa. The main city of Las Palmas, on the northern tip of the island has fantastic surfing. Here, you can step out of your boutique style accommodations and directly onto the boardwalk that overlooks the beach. The town of Maspalomas and the southern half of the island is for resort seekers. You'll find many beaches and inlets here.
Most people don't know that the island has hundreds of well maintained and beautiful mountainous hiking trails. The island is so rich in diversity that it's hard to believe that so many types of environments could exist on an island that takes 40 minutes to drive end to end on. From the lush and tropical landscapes of the north to the dry desert landscapes in the south, there is a trail for everyone.
How to get there:
The main way to arrive on the island is by plane. You will fly into Gran Canaria Airport (LPA) which is located along the coast between Las Palmas and Maspalomas. The best option is to fly into one of the major European airports (Paris, Madrid, Barcelona, Milan, etc.) and then use a budget airline if you're traveling with a small amount of luggage. You can sometimes find flights out of Madrid for around €40 round trip.
For more airport information go to this website: http://www.aena.es/en/passengers/passengers.html
A second option for arrive on Gran Canaria Island is by boat. There is a ferry option that leaves Huelva, Spain and travels to Las Palmas. This option allows you to travel with your own car. The round trip cost is approximately €800 for 2 people, 1 small car, regular pullman seats and 32 hours each way.
If you choose this option, you can find out more information on this website: https://secure.navieraarmas.com/en/home
What to do:
The only real way to get out hiking on Gran Canaria is to have your own vehicle. The cheapest and easiest place to rent your car is directly from the airport. You can find Dollar, Avis, Thrify, Goldcar, and Budget. The cost will vary but prices are fairly reasonable throughout the year. We were lucky enough to find a rental with Dollar Car Rentals for $8/day during our 6 week stay.
Gran Canaria has many marked trails. I found a great list of them by using Wikiloc. My recommendations for hikes are:
Caldera Bandama a more popular trail for tourists due to it's easy access and easier trail. It has beautiful views in all directions and interesting pathways that take you down into the crater floor.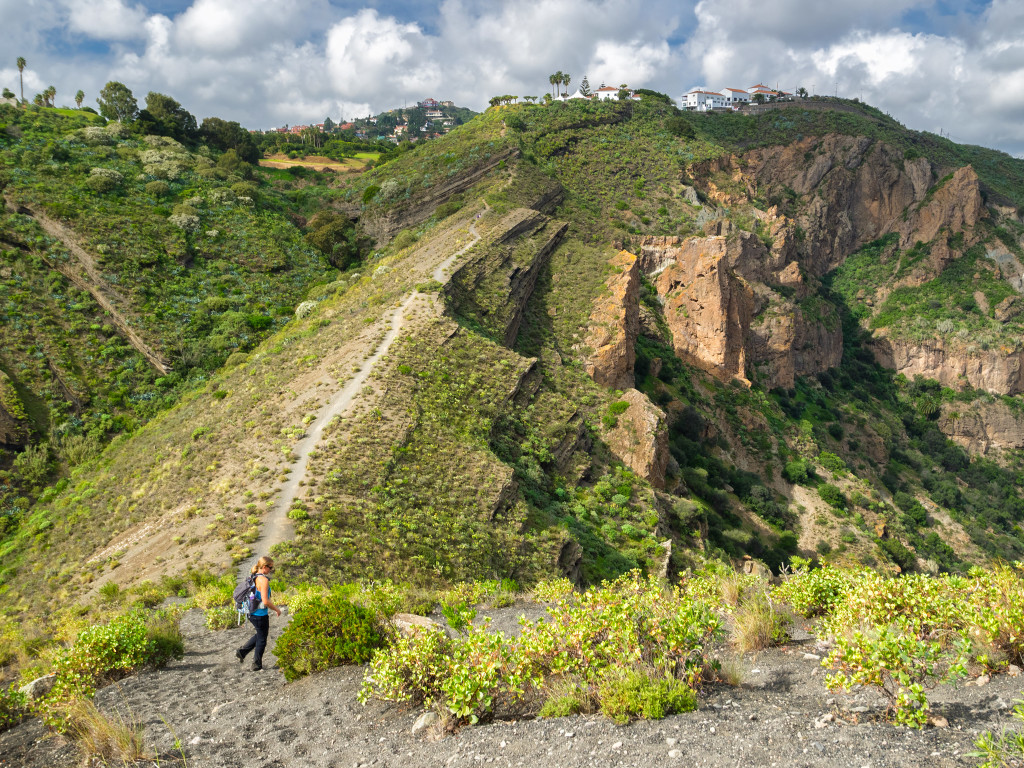 Pico de Las Nieves is the highest peak on Gran Canaria. You can drive all the way up to the parking lot at the peak or you can park lower down and follow a number of pathways that take you on an easy walk to the summit. We parked on the GC-600 near Llanos De La Pez and walked up. It was beautiful.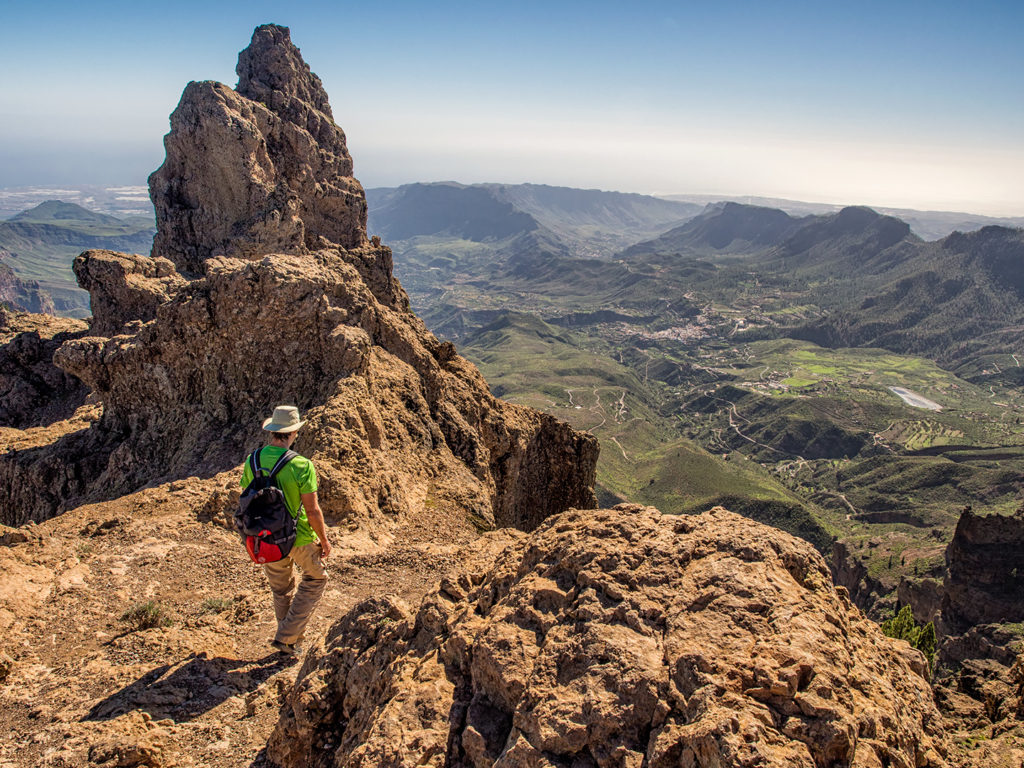 Roque Nublo was definitely our favorite hike on the island. This landmark is also accessible by car giving you a short 1km walk to Roque Nublo. We opted to walk from the town below called La Culata. It was an amazing walk that takes you through a beautiful forest and interesting terrain. It has surprisingly few hikers for such a popular landmark, we may have passed 4 or 5 people. The only busy section was from the car parking access to the actual rock, other than that we pretty much had the trail to ourselves.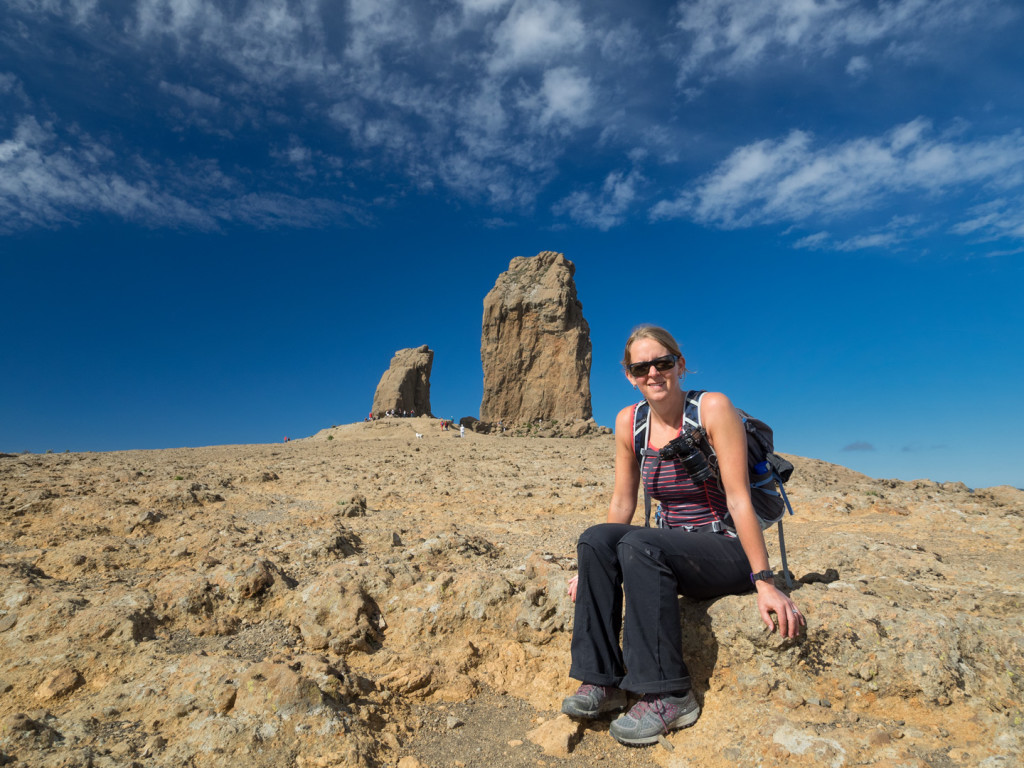 Playa GuiGuii was a dry desert like hike up and over a mountain pass that takes you down to a secluded beach. The mountains along the coast are dramatic and the beach will have few people on it. Take lots of water, there is very little shade on this hike. Make sure you stop and enjoy a limonada near the bottom of the trail. There is a small house that sells beverages.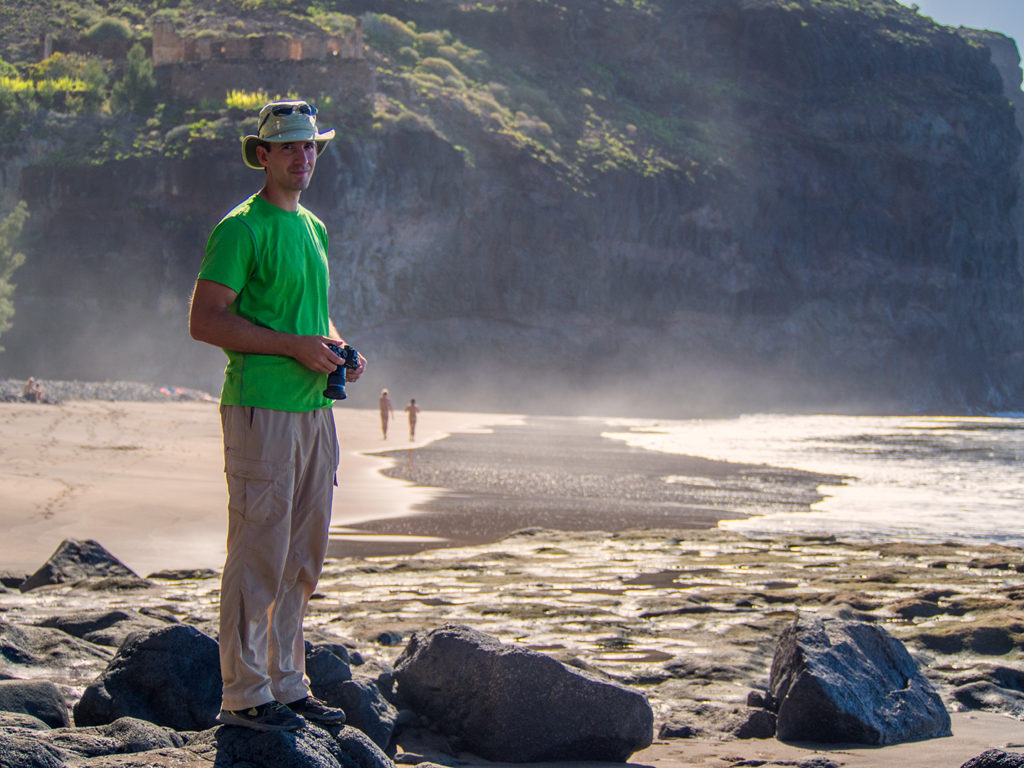 Where to stay:
You really have unlimited options when visiting Gran Canaria. Everything from city hostels to hidden resorts to apartment living.
AirBnB can be a great option if you want to live amongst the locals. I recommend finding something along the ocean near the town of Telde. You'll find ocean side walking trails, restaurants and grocery shopping all near by.
Hostels are a great choice for budget backpackers or for anyone wanting a more social experience. Finding a hostel in Las Palmas will give you access to local transportation, direct access to the beach, plus nightlife, restaurants and shopping.
Resorts are where you want to be if you want to relax on the beach and have everything available to you right at your resort. The towns of Puerto de Mogan and Puerto Rico are popular resort destinations.
Good to know:
There is exceptional snorkeling along the coast of Gran Canaria. Check out Las Canteras beach, Amadores Beach and Puerto Mogan. Stick to the rocky section to see lots of fish and maybe even an octopus. You will want to avoid Maspalomas beach for snorkeling, there is too much sand.
Maspalomas sand dunes are worth a visit. Note that it is nude friendly but you may want to avoid the shrub area behind the dunes, this area is known for sexual activity.
Gran Canaria is quickly becoming one of the most LGBT friendly places to visit in Europe. Since 2001 Maspalomas has been hosting an annual Pride week. Look for this to happen in May.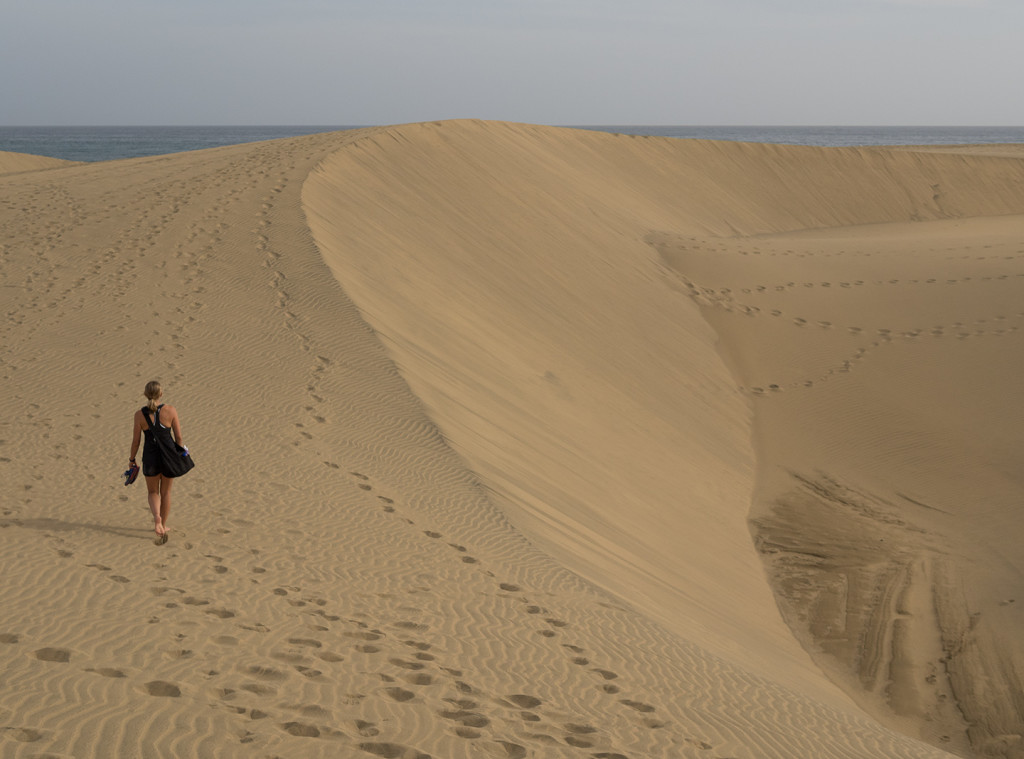 If you're interested in reading more about Gran Canaria, you can visit our other posts.
The beautiful hiking island you might not know about: Gran Canaria, Spain
Sun Scorched Nudity at the Maspalomas Sand Dunes
As always, I'm available to answer any questions or comments that you have.
Save
Save
Save
Save
Save
Save
Save
Save
Save
Save
Save

Latest posts by Jill Patterson
(see all)