Adventure Guide: How to Hike at Lake O'Hara in Yoho National Park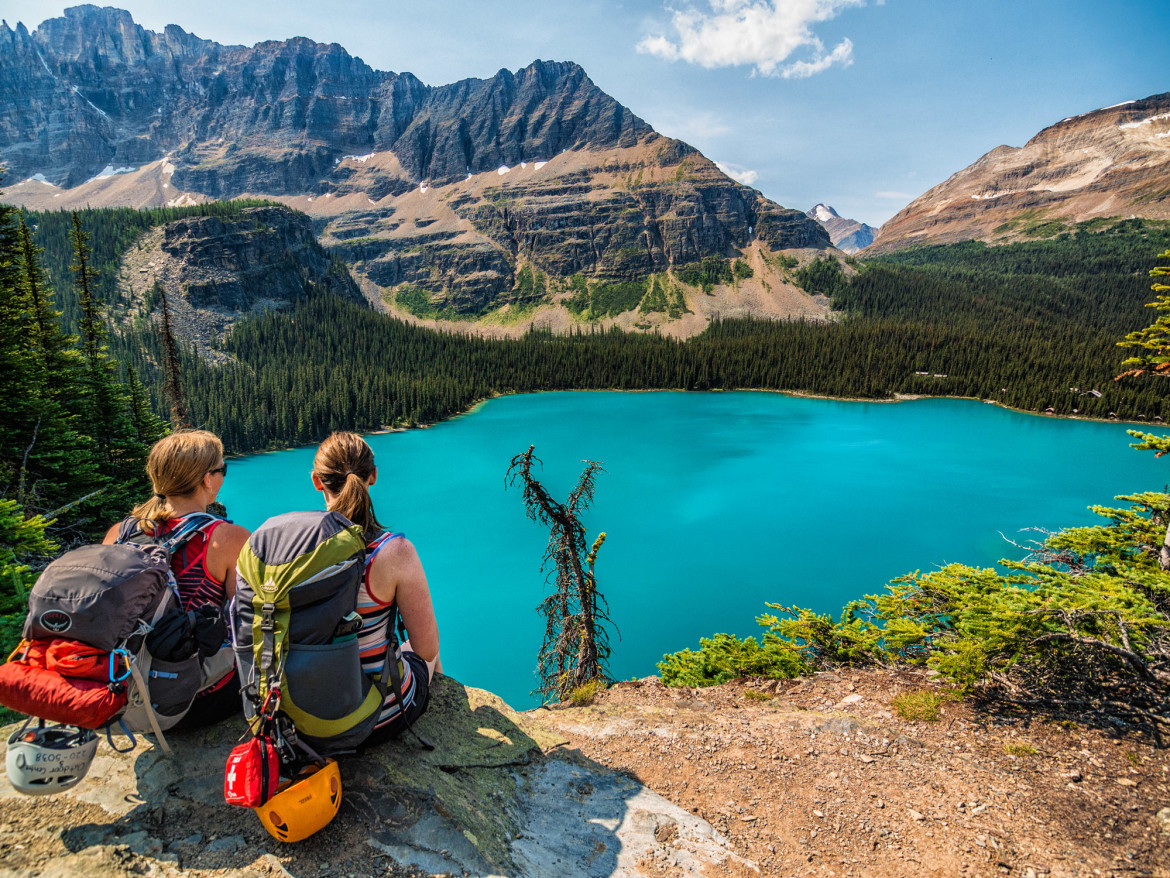 This is the most beautiful spot in the Canadian Rockies, in our opinion. Towering mountains and breathtaking beauty will surround you. Crystal clear lakes, each with a different shade of green or blue, all of which can be accessed from the trails in the area. My trail map specifies 22 different lakes in the area, you'll have lots to explore.
The best thing about this area is that it offers trails for all skill levels. Beginners will feel like they've been dropped in the middle of some of the most incredible views without sweating up a mountain. Intermediates will thrive by adding distance to their trek, while advanced mountaineers will climb some of Canada's most notable mountains.
How to get there:
The O'Hara turn off is located along the TransCanada Highway. If traveling from Alberta, drive west towards British Columbia. You will see your turn off on the left, located 12 kilometers past Lake Louise. If traveling from British Columbia, drive east towards Alberta. You will see your turn off on the right, located 14 kilometers past the town of Field.
This gravel road will take you to a parking lot. You must park your car here. Your options are to walk 11 kilometers up the gravel road to Lake O'Hara OR take the bus that you must reserve in advance.
What to do:
Once you make it to Lake O'Hara, the very first thing you will do is run inside Le Relais Day use shelter (this is where the bus will drop you off), and buy a piece of carrot cake. It's quite delicious. A small batch is delivered from the Lake O'Hara Lodge every morning and then again at 1:30pm. Once you have your super tasty treat, wander down to the lake and sit on a bench. Your tasty treat will taste even better as your eyes soak in true mountain beauty. This might very well conclude your day.
Hiking is the #1 thing to do in the area during the summer. All trails are well maintained. Comparable of hiking Europe's well beaten trails, except there are far less people here. In fact, the most people we saw were the people on the bus. Once we got off the bus, everyone went their separate ways and the trails were mostly free of other people.
You can also enjoy canoes and rowboats at Lake O'Hara. The area offers quiet stillness, perfect for reading a book or painting.
During the winter months, enjoy a fresh blanket of snow and a network of cross country ski trails. Cozy up to the fireplace with a cup of hot chocolate at the end of the day.
Where to stay:
You have a few different options. The comfortable Lodge and it's rustic cabins, a beautiful campground, or alpine huts.
The Lodge: You have 3 options when staying at the lodge. You can stay in the lodge, one of it's lakeside cabins or in the guide cabins (not lake side). Prices range from $650 – $930 per night for double occupancy.
The Campground: Advanced reservations are required so book early. The campground is open mid-June through till the end of September. The campground facilities include a fire pit and fire wood, outhouses and treated well water.
Alpine Huts: The Alpine huts are run by the Alpine Club of Canada and all reservations must be made through them. The two huts located in the Lake O'Hara area are theElizabeth Parker hut and the Abbot Pass hut. Keep in mind that the Elizabeth Parker hut is one of the most accessible ACC huts which makes it very popular. Bookings are based on a lottery system, click the hut link above for more info. Abbot Pass hut is much more difficult to access, making it less accommodating to those not familiar with alpine hiking.
Good to know:
We highly recommend that you book the bus. It's $14.70 round trip. It saves you from walking 11 kilometers up a gravel road with absolutely no view of anything except a dusty forest. It's dusty from all the buses and staff vehicles that will drive past you.
If you plan to take pictures and you have the type of camera that allows you to add filter to the front of your lens, definitely take a polarizer.
The lodge does welcome non-registered guests for it's lunch and 3 pm tea. If budget is a concern, we recommend packing a lunch. You can also find snacks and beverages at the Le Relais Day Use Shelter.
Bug spray will make this trip 10 times more enjoyable.
If you're interested in reading about trip we did to the Lake O'Hara area, check out our blog post HERE.

Latest posts by Jill Patterson
(see all)