Adventure Guide: SUP with PappaSurf in Nassau, The Bahamas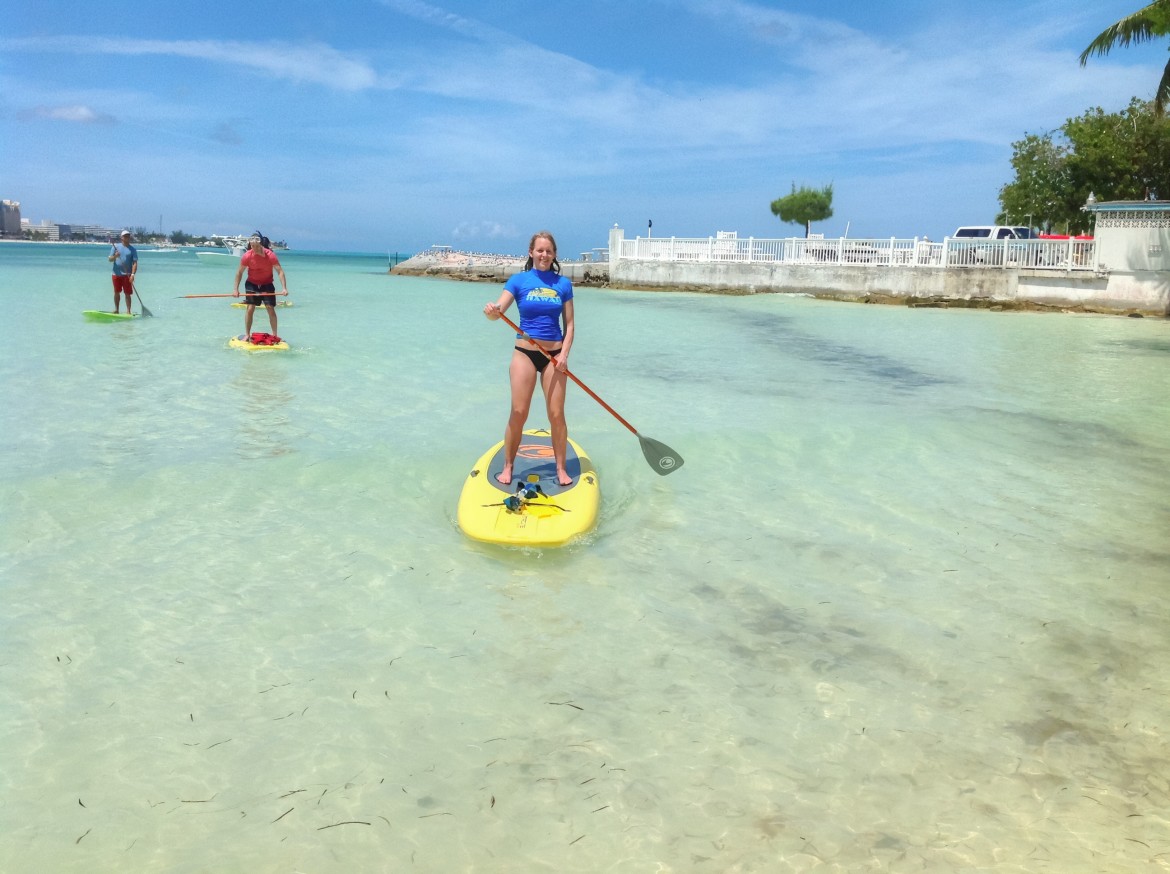 PappaSurf started my love and obsession with stand-up paddle boards. I have always loved the water, but being on a paddle board is something I can't quite put into words. It is so many things for me: fun, adventure, relaxation. I feel at home on a paddle board.
Curtis and I wanted to experience something different during our cruise ship stop in Nassau. Stand-up paddle boarding was not an option that was offered through the cruise ship excursions, but after a little online searching, I found PappaSurf's website.
We booked ourselves in for the Paddle-Snorkle tour and could not have been happier with the tour and the incredible service we got.
How to get there:
Our SUP and snorkel tour took place in Goodman's Bay. Most other lessons and tours will take place here as well.
More specifically, Goodman's Bay is located 5km from the Nassau cruise terminal. There are several options on how to get arrive at the bay.
1. Walk 
This was the option we used. Our cruise ship docked early in the morning giving us plenty of time to walk to Goodman's Bay. It's an easy walk, just follow the coast. It will take you about an hour.
2. Bus
Allow for a 15 minute bus ride from downtown. Take the #10 Jitney. It will cost about $1.50. Goodman's Bay is directly on this bus route, so just ask the driver to drop you off at Goodman's Bay. We took the bus back to the cruise terminal, the guys from PappaSurf just flagged down the bus for us, we jumped on and got off when we started recognizing the downtown markets that are near the terminal.
3. Taxi
This is the most expensive option and won't save you much time. It will still be 12-14 minutes from downtown. The taxi's are not metered, so discuss the price before you get it. You should expect to pay somewhere between $11- $15 each way.
Note: Prices are quoted in Bahamian dollars. $1 BD = $1 USD.
What to do:
PappaSurf offers a number of different options including, rentals, lessons and tours. Paddleboard Yoga and Paddlefit are also options.
For us, the option that worked best for our limited time frame was booking the Paddle and Snorkel tour. It was a 2.5 hour tour. We were given a mini lesson on land and then more lessons on the water.
If you have more time than we did, you can pick a sunrise or sunset tour, which I can only imagine would be an beautiful experience.
Where to stay:
Our stay was on board a cruise ship. We've been the Nassau twice, both times were day trips from our cruise ship. Cruise ships are something I still struggle to recommend. Lots of people love their time on the ship. I feel limited and restricted. But, I do believe that cruise ships can be thought of as sample menus. Instead of committing to a particular island for a weeks stay, running the risk of not liking your chosen island, a cruise ship can offer you a sample of the islands. In turn, helping you decide which island to return to at a later date for an extended stay.
If you are staying in beautiful Nassau, there are lots of great options. There are all inclusive resorts like Sandals or Breezes. The Atlantis resorts are all located on Paradise Island, which are worth a visit even if you're not staying there.
Most hotels on the island are going to cost $100 USD per night on average (based on double occupancy). For something cheaper you might want to check for a shared accommodation on AirBnB. where you can find double occupancy rooms between $50-$100 USD.
Good to know:
The beautiful clear waters of the Caribbean can be colder than they appear. Once you're in the water, it's fine. We baked in the sun for a couple of hours before getting in the water which may have made the water feel colder than it really was.
USD is accepted in The Bahamas. Most ATM machines will give you Bahamian dollars. ATM's in the Casinos and near the Information center will give you USD.
Make sunscreen your best friend!
Bring a towel for your SUP adventure.
Put your sunglasses on a string so you don't loose them in the water.
If you're interested in reading our blog post about this adventure, check it out HERE.

Latest posts by Jill Patterson
(see all)