Cruise Chronicles: Crossing the Atlantic Ocean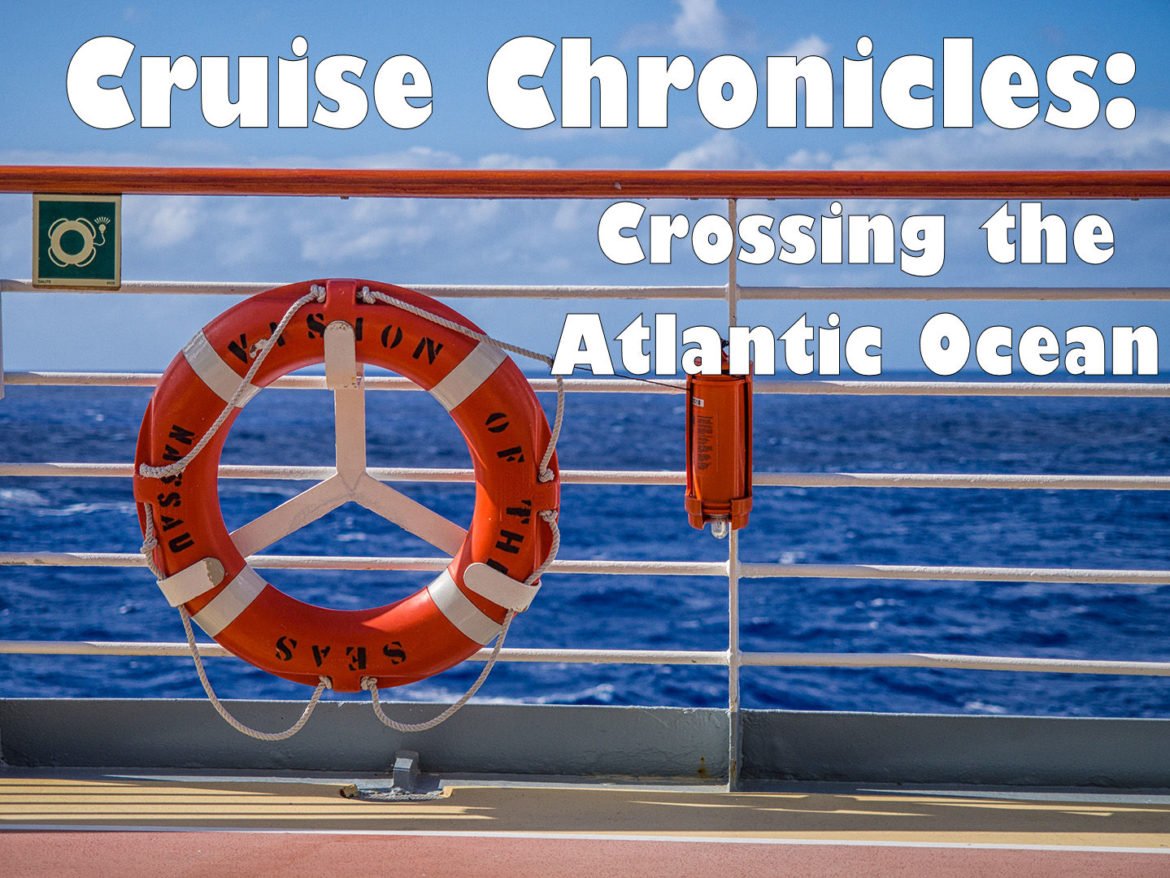 There was a time when crossing the ocean on a cruise ship sounded like a horrible idea for an adventure to us. There was a time when cruise ships were simply not our cup of tea. As a matter of fact, after our first time on a cruise ship we said "Never again!" But something has changed. Maybe we got old, maybe our perspectives shifted, maybe we are beginning to realize the real luxury of travel is time.
The time to do nothing, to rush nowhere, that is a luxury that many may never experience. The luxury of having nothing expected of you and everything provided for you. That is a luxury no airport or airplane can truly offer. It's true, a cruise ship can compare to an all-inclusive resort with it's unlimited supply of food, warm pools, spas, beautiful ocean views and seemingly endless entertainment, but a cruise ship offers something different. A cruise ship offers customer service. Room staff who know your name before you arrive. Wait staff are always smiling, and guest staff is available and stationed around every corner it seems. A cruise ship offers luxury without the rush.
Cruising across the ocean on a trans-Atlantic re-positioning cruise draws in an entirely different crowd than the week long cruises in the Caribbean do. This was apparent as soon as we got into the check-in line for our Royal Caribbean ship. These crossings seemingly do not appeal to families or anyone under the age of 40 for that matter. Most of our ship mates were retired couples and many (possibly the majority) were European. On our entire cruise I only spotted 2 other couples that looked to be younger than Curtis and I. The vibe was very different, it was a vibe of people who have the luxury of time. These were people who looked forward to the 8 full sea days we had between our stop in Key West, Florida and our next stop in Funchal, Azores Islands, Portugal. This was a relaxed crowd at it's finest.
It may have been the incredibly relaxed atmosphere that made us love this cruise so much. The boat wasn't spectacular, it didn't serve the best food that we've had on other ships, it didn't have the best entertainment or most modern decor. But, it was amazing to sit on deck in the warm sunshine staring out at a endless sea of blue for days. It was fantastic that nothing was ever over crowded, except the gym…but I really can't fault it for that, it was actually inspiring to see so many people exercising on vacation while I enjoyed my fresh baked cookies (true story). This experience was the first I had ever felt true relaxation that wasn't scheduled into my overly busy schedule.
This particular cruise left Tampa, Florida and made a stop in Key West, Florida. We then spent 8 days at sea before stopping on the island of Madeira, Portugal. We then had one more sea day and continued on to Spain where we stopped in Malaga, Cartagena with a final stop and disembarkation in Barcelona. It's safe to say that our plans for every stop didn't work out, there was no bicycle riding, no hiking, and no scooter riding and no kayaking. Plans were just not meant for us on this trip. We did walking tours of every stop.
Here are some of the highlights:
Key West: Incredibly cute. Incredibly touristy.
On board the boat: 14 days of relaxation!
Funchal: Beautiful. We will go back. When it's not raining.
Malaga: Pretty tourist center but dirty outside the main area.
Cartagena: cute historic town but we got rained on.
We loved our time on board the Vision of the seas. In fact, we loved it so much that we stopped by the port when we were in Dubrovnik, Croatia, 2 months after this cruise ended just so we could take a picture of the Vision while it was on it's Mediterranean Circuit for the summer.
This boat sails from Venice to Dubai in November….Should we?
Have you ever been sailing? Tell us what you liked or disliked about the experience!

Latest posts by Jill Patterson
(see all)