Day Hiking in The Great Smoky Mountains National Park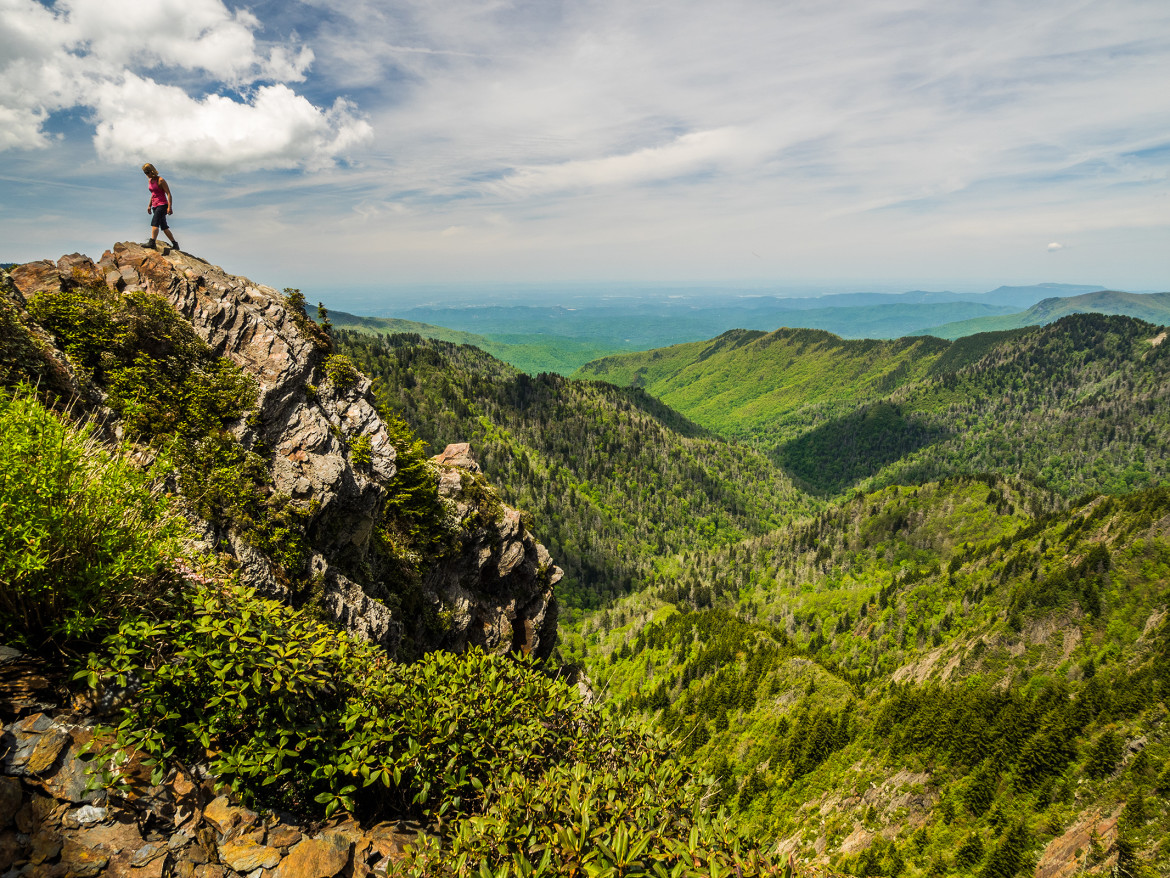 The mountains were calling. It had been 3 months since we left the Canadian Rockies and we were craving some much needed mountain air. The Great Smoky Mountains National Park with it's green rolling mountains, were just what we needed.
Some quick research pointed us in the direction of Charlies Bunion trail and Clingman's Dome along the Appalachian Trail, for an easy day hike. The well marked trail starts from the Newfound Gap parking lot along highway 441, located on the North Carolina/ Tennessee border.
We were excited to hit the trail, an easy 4 miles to a rocky outcrop known as Charlies Bunion, was our destination. We smiled and bubbled with a childlike wonder, we had so quickly forgotten what it feels like to be surrounded by nature. This is home for us. The spring time fragrance of flowers in bloom mixed with the chirping of happy song birds made us feel comfortable and content.
We wandered along the well beaten path, stopped for flower photos and then carried on our merry way.
We took a quick detour to the Jump-off, a trail outlook that weaves it's way up and overlooks our destination of Charlies Bunion. We quietly ate our lunch as we looked out over the mountains. This less visited spot was well worth the detour.
From here, we back-tracked to the original trail and followed the signs to the Ice Spring Shelter. We had the opportunity of chatting with some inspiring thru-hikes (those brave enough to hike the entire 2160 miles of the Appalachian Trail) before continuing to to our destination.
Charlies Bunion is very much a tourist destination. A small glimpse at something much greater. This highly photographed spot tends to have only a couple of obvious vantage spots for taking photos. We recommend that you look a little harder and find angles that are much better than the easier options available.
We took so many photos that this hike ended up taking us almost 6 hours! The hike itself is easy, especially if you're used to hiking in the western Rocky Mountains like we are. I would suggest that if you're just doing a straight hike, without venturing off course to the Jump Off and without stopping and chatting at the Ice Shelter for 30 minutes, you can easily do this hike in 4 hours if you're a fast walker.
We made one last stop before leaving the Great Smoky Mountains. Clingmans Dome, the highest point on the Appalachian Trail. The dome is located at the end of a road, 7 miles off the main highway. A short but steep walk up a paved trail leads you to a concrete dome overlooking the mountains. On a clear day, this view would be amazing. Unfortunately, if you show up on a hazy day like we did, the view may seem underwhelming. Nonetheless, still worth the stop.
While hiking this trail and meeting a couple of thru-hikers, we decided that some long distance hikes should be in our future. Have you done a thru hike? Which ones do you recommend?

Latest posts by Jill Patterson
(see all)