Standing on Top of a Meteorite: Guatape, Colombia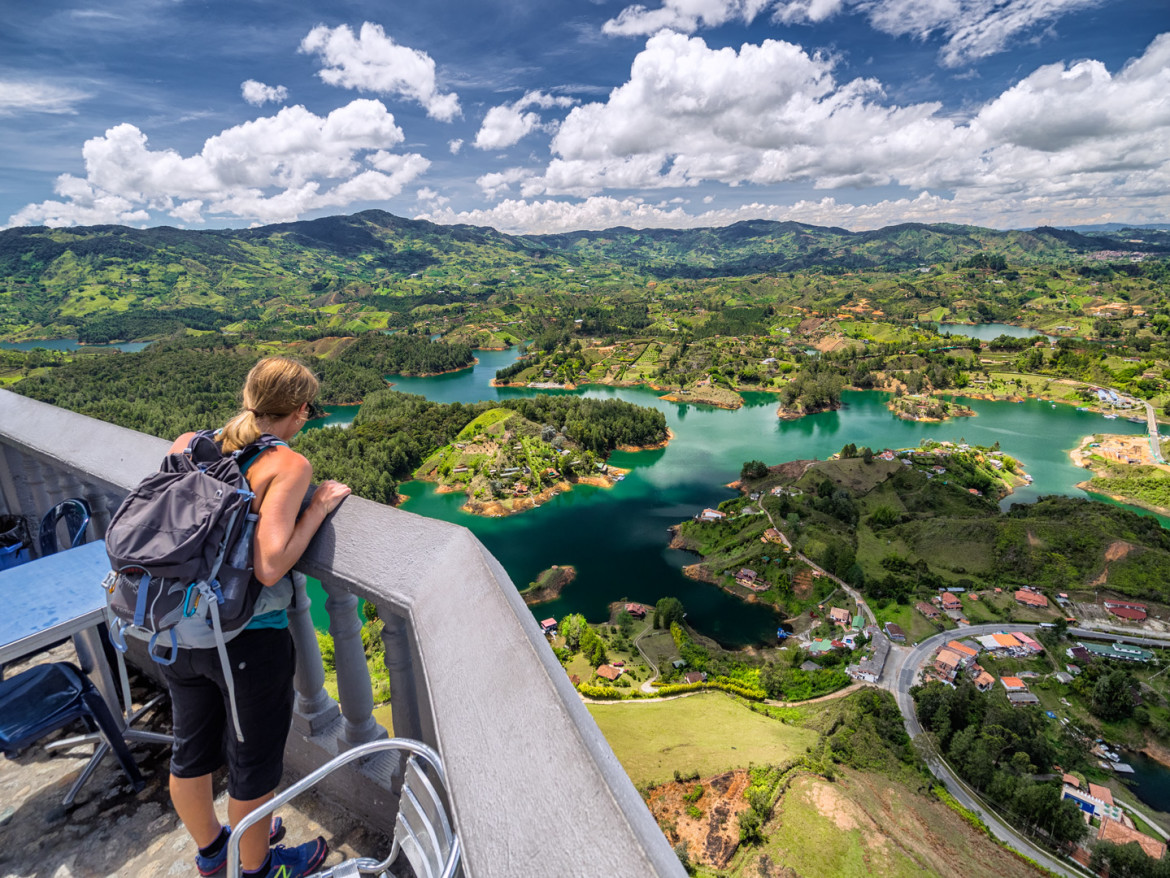 A tourist favorite is the giant rock, La Piedra de Penol, in Guatape. It definitely looks out of this world. Local legend states that a huge rock nestled between Guatape and El Penol may have been a meteorite. Curtis, being the accuracy fanatic in our little duo, assures me that this is definitely not a meteorite. So, I've changed my mind, this rock was definitely left by aliens. I have climbed an alien rock!!
Ok, but seriously, it's not a meteorite or an alien rock. That doesn't make it any less cool. I have climbed over many rocks during our walks and hikes. I have hopped from rock to rock in a child-like wonder, rappelled down cliff faces and balanced carefully along death defying rocky ridge lines. But until recently, I had never walked to the top of a rock via a giant staircase with colonial railings!
It's only a short 740 steps to the highest lookout spot on La Piedra de Peñol. And by short, I do mean not short. Take water, you'll be happy you did. This isn't a difficult walk up, but if you go mid-day, the hot temperature might be a problem.
The rock is located about an hour and forty-five minutes from Medellin (by bus). It's between the town of El Penol and Guatape. The bus stops at the road leading up to the rock. As soon as you get off the bus, you'll be approached by vendors trying to offer you a tuk-tuk or a horse ride up to the base of the rock. We opted to walk and are glad we did. There's not much to see, but it's a nice up hill warm up for what's to come. I don't know how much a tuk-tuk is but the horse ride is $3000 Colombian Pesos and doesn't go the whole way up to the base. They stop about 1/2 km from the base due to a metal grate on the road that the horses can't cross. It costs $12,000 Colombia Pesos ($4 USD) to climb the rock, you pay that amount at the ticket booth located beside the staircase that goes up the rock.
The sheer size of La Piedra (the rock) is impressive. It rises from the landscape as if to scream "Look at me!". And you do look, not only because it is the only rock rising up out of the hilly landscape in the area, but it's oddness is surrounded by beauty. It's captivating.
A man-made dam has created the lake that surrounds La Piedra. From the top, looking out over the landscape is unlike anything I've seen before. Lush green rolling hills make the water look like it's dotted over the landscape.
If you're like me, you've noticed that every guide book and blog post about things to do in Medellin tells you to go to Guatape and El Penol. We put off going for almost the entire 2 months we spent in Medellin. It wasn't until 2 days before our flight left that we finally decided to get on the bus and go. We expected crowds and typical tourist bullshit, but were shocked to find that we weren't hassled by vendors, we weren't crowded by other tourists. This is probably the least touristy place I've been that all tourists in Medellin go to.
From La Piedra we took a tuk-tuk with our new Colombian friend to Guatape. It was $10,000 COP (about $3.50 USD). We wandered through the brightly colored town with its 3D zócalos (baseboards on all the buildings). Each building has a different baseboard, usually an image about what kind of business is in the building or how the person in the home makes a living. Also…I'm not 100% sure that these are called zócalos. Google translate seems to think the word means a main square. In any case, the baseboards are super cool.
How to get there from Medellin:
Take the north-south train line (Line A) to Caribe station. Follow the walkway bridge to the west, over the road and into the bus terminal (Terminal Nord). All of the ticket windows are numbered, and there are a lot! Find #14, it will say Guatape on the window. The ticket will cost $12,500 COP ($4.50 USD) each way. We bought a one way ticket to Guatape and got off the bus at La Piedra. Stay on the bus if you're going to Guatape first. The buses seem to run every hour. I had a hard time finding any information on this. We took the 9am bus, I know there was an 8am bus but I'm not sure what the earliest bus is.
How to get back to Medellin:
You can take a bus back directly from La Piedra, but I don't know the details of this. I would also recommend getting on the bus in Guatape because there is a good chance that the bus will already be full by the time it gets back to La Piedra.
From the main square in Guatape, the bus station is only a block away along the waterfront. You'll see a big ticket booth that says Medellin on it, it's the only ticket booth there. We booked our return ticket as soon as we got to Guatape so that we didn't run the risk of getting the ticket last minute only to find out that the bus was already full.
It's all fairly straight forward, the buses leave on time. So don't be late, they won't wait for you. The last bus back to Medellin leaves at 6:30pm.
What did we miss?
Are main focus on this trip was to visit La Piedra. There seemed to be lots of activities to keep you busy in Guatape, but we only stayed for a few hours and wandered around town on foot. Have you  been? What can you recommend?

Latest posts by Jill Patterson
(see all)