Mae Hong Son Loop: Photo essay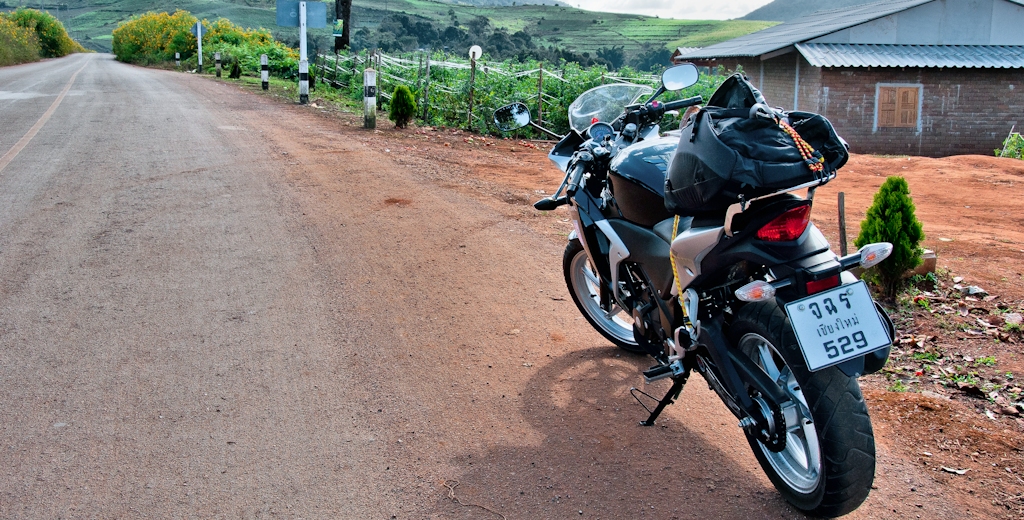 We left our luggage at the hotel in Chiang Mai and then made our way over to Tony's Big Bikes to exchange our scooter rental for two CBR250's. In no time at all we were on our way north. 
Our route was a 3 day trip that took us through Mae Taeng, Pai, Mae Hong Son, Mae Chaem and back to Chiang Mai. We found that the roads as twisty as expected, however, the endless hairpins were somewhat frustrating because 80% of them either had potholes or gravel to watch out for and all of them were either inclines or declines, something we're not that familiar with, but by the end of it we were enjoying the changes in elevation.
It was Nov.10, 2011 when we did this trip, which means it was Loy Krathong, the festival of lights. The lake in the middle of Mae Hong Son became lit by hundreds of Krathongs (floating candles), the sky became lit with equally as many candle lanterns and there was a market set up all around the lake.
On Day 2 we went in search of the Mexican sunflower fields. I'm not sure why they're Mexican if they're in Thailand, but we don't ask too many questions. We found the fields, they stretched out a long distance over the landscape and were very pretty. We continue on hwy 1263 to a town called Mae Chaem for the night. The first section of the road was amazing, twisty smooth pavement and beautiful scenery. The second half…well, we really should have been on a dirt bike, there were sections that were so badly pitted that I'm not sure there was any pavement left. There were also many sections that were completely covered in gravel from mudslides.
We found cute little chalets in Mae Chaem and immediately booked one. Once we went inside, we realized they were a little dirty and slept in our clothes. In the morning we got up and got on the bikes as soon as we could in the morning. We decided that we really didn't like Mae Chaem after our nights stay, so we didn't even want to have breakfast at a restaurant in town. Instead, we went to a 7-11 gas station/store, filled up the bikes and grabbed some muffins and were on our way. Did I mention that there are 7-11's EVERYWHERE in Thailand, seriously, what's up with that??
Once we got back on the main loop again the roads had perfect asphalt that weaved along a river. We quickly gained speed and drove straight to Chiang Mai.

Latest posts by Jill Patterson
(see all)